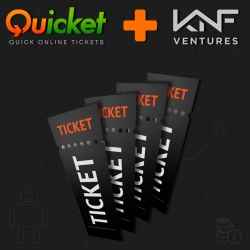 Cape Town, South Africa, March 31, 2017 --(
PR.com
)-- KNF Ventures, a SARS-approved section 12J Venture Capital Company dedicated to investing in South African innovation-driven ventures with proven traction, today announced that it is investing in the online ticketing services solution scale-up company, Quicket. KNF is managed by leading South African venture capital firm: Knife Capital. The investment serves to enable Quicket to streamline its service offering in the local market and focus on key markets in the rest of Africa.
Quicket is a cloud-based ticketing solution that allows anyone to instantly start selling tickets and marketing and managing their own event within minutes. While Quicket has an enviable track record in providing ticketing solutions to large-scale events and festivals, being user-friendly and self-managed allows Quicket to cater for the countless smaller event organisers that, before Quicket, had limited viable options in Africa. "As more companies, festivals, adventure sports, schools and individuals opt to plan and manage their own local events and meetings, the need for event-related technologies will continue to grow," says James Hedley, Director of Quicket. "Our cloud-based technology platform allows us to provide a seamless user experience – whether it is for larger events where event management support may be required or for smaller self-managed events," he adds.
Quicket is one of the companies in Knife Capital's year-long entrepreneurship development programme: Grindstone. "Quicket does not necessarily require funding as it currently almost doubles in revenue year-on-year off a decent base while being cash-flow positive," says Keet van Zyl, Investment Partner at KNF Ventures. "We admire the team's bootstrap tenacity and strong positive company culture. Through Grindstone we've implemented a few strategic interventions together and realised that there is a good cultural fit and a considerable gap in the African ticketing space if we accelerate the growth of Quicket together."
The African ticketing market is enticing but complex due to mobile-dominant Internet penetration, different payment methods and physical ticket distribution challenges. Quicket successfully commenced its African expansion strategy in 2016 by partnering with a local ticketing company in Uganda and executing events in Kenya. A significant portion of the KNF investment will be allocated to refining Quicket's mobile ticketing solution and developing a scalable mobile ticket kiosk to establish a physical distribution network in Africa. But there are also many opportunities to expand into niche verticals in South Africa off the reputation and blue chip client base that Quicket already serves.
"We are extremely excited to have the experience of KNF's investor base and Knife Capital's track record of accelerating the growth of local SMEs on board," says Hedley. KNF's investment in Quicket comes at a time when strong digital customer engagement that links real-world experiences creates a competitive advantage for African businesses.