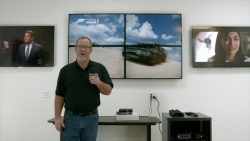 Fremont, CA, April 05, 2017 --(
PR.com
)-- BZB Express is proud to announce their latest addition to helping clients find the best AV solution - a brand new demo room. The demo room features a 2x2 video wall, multiple HDTVs including a 4K display, a portable rack to accommodate HDMI sources, wall plate IOs for various connectivity types, and a broadcast setup for streaming how-to and demonstration videos. The BZB demo room allows the sales team and customers to immerse themselves with new products and all their functionalities, while the marketing team takes advantage in the production of educational videos.
"We're excited about our new demo room and the chance to test the newest innovations from our partners," said Eugene Bocharov, CEO, BZB Express. "This investment is geared toward helping our clients better understand these innovations as it allows them firsthand experience. We encourage our team to use this room and learn the full capabilities of the technology we carry."
BZB Express' vision is to educate themselves more thoroughly on the array of technologies in their warehouse. This will result in more efficient consultations and prepare them for each unique application presented by their clients. As for the clients, they will have the opportunity to visit the demo room for product demonstrations and get familiar with their capabilities. This will garner trust and credibility toward BZB Express and their products, allowing the clients to feel more comfortable with their potential investment. Additionally, partner manufacturers have a resource they can utilize for product showcasing and presentations.
The BZB demo room is a tool BZB Express, their clients, and their partners can all take advantage of and benefit from. It is now ready to connect anyone to the solution they seek in audiovisual.