The New eMenuTouch Technology Can Transform a Food Truck Into Smart Food Truck
Queensway Group AB launches innovations for food trucks, catering services and stadiums. Queensway Group AB's in-house native hospitality multi-platform development for solving problems of human civilization is one of the primary aims of the venture.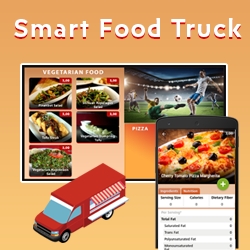 Los Angeles, CA, April 06, 2017 --(
PR.com
)-- Pre-ordering, Ordering and Delivery System in remote and real time for Food Trucks, Catering, Restaurants, Stadiums & Arenas, Events, Railway stations and trains, Cruise lines, Airports and in flight cabin and other hospitality venues on over 8.6 billion smartphones & Internet enabled devices screen from worldwide locations, on a flight, in a car or on the go.
You can open and play with their Live Demos & Videos at the following address:
demos.emenutouch.com
Food Truck Application:
Pre-order with date and time to Pick-up as per schedule or Book Catering a year or days ahead of an event. Queensway AB integrates and supports Smart TV digital menu display and split screen for live TV show or videos. The consumer-facing application which we create for our clients is following their company's branding and visual guidelines.
Subscriber requires a Website and payments system and Queensway AB integrates free with our eMenuTouch software system. Guest security is first priority that all personal information and data is deleted instantly from the server after guest once has checked out.
eMenuTouch is a modular all in one system, consisting of several components and guest service modules. All guest service experiences are a system of activating, deactivating, integration of modules and components to interface application which function as one but deploy multiple services providing beyond expectations unbelievable experience by interlacing to the sky high level. Each module can be modified to correspond to subscriber services requirement.
Stadiums & Arenas:
Book tickets for single game, seasons or group tickets and premium seating. Transfer Ticket to family or friend. Swipe the smartphone over reader to enter stadium with Barcode, NFC & QR code. Pre-order food & drink from anywhere or on the go to pick up or order In-seat Stadium in remote and real time from multiple, concessions and restaurants. Queensway AB assists to integrate with Segelkopter / Drone System to deliver Food & Drink to Guest Seat number. Navigate to seat with iBeacon / Eddystone system.
Queensway manages server infrastructures, silent updates, upgrades, uptime and security. Back office manager leads and guides in steps making unlimited Food and Beverages categories, subcategories, menu items, ingredients, nutrition, images and prices. Branding App is free and no other charges except SaaS, IaaS based monthly subscription or "pay as you go" model.
Contact
Queensway Group AB
Ather Khan
+4687168272
http://www.queensway.se
Nikolay Ivanov,
developer@emenutouch.com

Contact