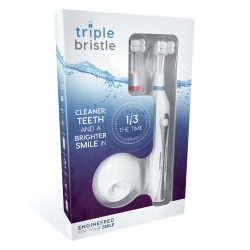 Dayton, TN, April 07, 2017 --(
PR.com
)-- Triple Bristle, Inc is pleased to announce the release of it's new website,
www.triplebristle.com
. The new site design has many new interactive features that will help you get the information you need to take charge of your smile.
The new design has an informative blog with regular updated content on topics that range from maintaining oral health to how to use the Triple Bristle properly. They also have an extensive video library both on the website and on their YouTube channel.
After a round of crowd testing and personal favorites in the Triple Bristle™ team, new names have been chosen for the product lineup.
The Unit, The Set, The Pair, The Blue Heads and The Pink Heads now await people looking for the best oral hygiene system invented and recommended by a dentist.
Over 4 years in the making with countless prototypes, design improvements and a personal commitment to make the best toothbrush humanly possible has lead to the design of the Triple Bristle™ Sonic Toothbrush.
The Triple Bristle™ brush features 3 perfectly angled brushes that clean all sides of the teeth and gums at one time taking the guess work out of your oral routine.
Once in a generation a significant improvement comes along. The toothbrush is still stuck in the dark ages. A constant back and forth motion that most people use just does not work and the brushing is adequate at best. The Triple Bristle™ Head design combined with the 3 Speed Electric Toothbrush Handle is a revolution just waiting to happen in your mouth.
- Effective, Cleans Top, Front & Back of Teeth at the Same Time
- 31,000 Sonic Pulses Per Minute
- 3 Modes for Cleaning (High, Low, and Massage)
- Powerful Plaque Remover
- 3 Perfectly Angled Bristles
- Tongue Cleaner
- Gentle on Teeth and Gums
- Safe on Braces and Veneers
- Automatic 2 Minute Timer
- Keeps Charge for up to 2 Weeks
- Whitens Teeth
Dentist Created - Dentist Approved
To find out more about Triple Bristle, contact them at the number below or through their website.