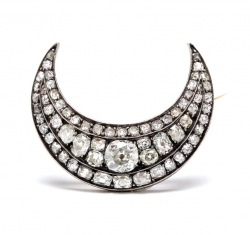 Raleigh, NC, April 06, 2017 --(
PR.com
)-- Antique and vintage fine jewelry shop opens on Glenwood Avenue
Katie Callahan & Co., the Triangle area's only shop that specializes in selling or purchasing antique and fine jewelry from the 1700s through the 1960s, today announced it is expanding its online presence by opening its first retail shop at 14 Glenwood Ave., Studio 28, Raleigh, NC, 27603.
While the Katie Callahan & Co. is known for its Georgian, Victorian, Edwardian, Art Deco, Art Nouveau and Retro Modern Pieces, they specialize in finding just the right bauble for any occasion.
"If I don't have what you're looking for in stock, I am the quintessential hunter when it comes to period fine jewelry," said Katie Callahan & Co. founder and Chief Sparkle Officer, WendyKate Callahan. "I meet customers' expectations every time."
On Friday, April 7, Katie Callahan & Co. will celebrate its new location by holding its inaugural First Friday's Art Walk from 6:00 to 9:00 p.m. ET. Come enjoy some bubbly and sweet treats as you shop their current collection.
The Katie Callahan & Co., will be open from 11a.m. to 7p.m, ET Friday, 11a.m. to 5p.m., ET Saturday and 1p.m. to 5p.m., ET Sunday, and will be by appointment only Tuesday, Wednesday and Thursday.
About Katie Callahan & Co.
Katie Callahan & Co., founded in 2015 by WendyKate Callahan, is the Triangle area's only jewelry store dedicated solely to antique and vintage fine jewelry. The shop is a culmination of WendyKate's life-long dream and years of hard work. Her love of jewelry began in her teens and she studied it in college. Having worked in almost all facets of retail business, she struck out on her own in 2015 and hasn't looked back. The new shop is the next step in her journey to bring quality and vintage fine jewelry to Raleigh, the Triangle area, North Carolina and all reaches beyond via her retail website.
To learn more about the shop, the collections or to schedule an appointment, contact WendyKate Callahan at 919.438.1133 or visit the website at
www.katiecallahanandco.com
.