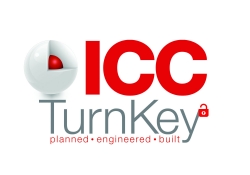 St. Louis, MO, April 06, 2017 --(
PR.com
)-- Construction to be completed within the next 18 months
Templeton Rye, known as Iowa's most notorious whiskey, selected ICC Turnkey to provide design-build services for its greenfield distillery in Templeton, Iowa.
"Templeton Rye's storied history is part of what makes our whiskey unique and ICC worked together with us to develop a customized design that was well-engineered and clearly defined," said Keith Kerkhoff, Founder, Templeton Rye, "We chose ICC Turnkey for this important project because of their expertise in designing best-in-class distilleries and the new Templeton Rye distillery is no exception."
The new distillery will be able to produce 500,000 Original Proof gallons of whiskey annually and is comprised of 35,000 total square feet. The still room is constructed from 52,000 pounds of copper. Over 9,000 feet of piping will be installed at completion. The distilling process will be able to accommodate 229,000 gallons of process water, stillage and distillate at any one time within the process tanks.
"ICC Turnkey's experienced team of engineers and experts worked to successfully design Templeton Rye's historic distillery with the highest of standards through continuous consensus with our client," said Alex Alexandrov,President, ICC Turnkey Inc. "We worked diligently to design a facility that is fully thought-out and fit for purpose, while offering our client the lowest total cost of ownership. We are proud to work with Templeton Rye on this historic project."
ICC and ICC Turnkey are providers of engineering and management consulting services. Headquartered in St. Louis (USA) the ICC group offers a wide range of services – from greenfield factory design to here-and-now production line adjustments.
Learn more at www.icc-inc.net/news
For media inquiries, please contact Sara Bouffard:
sara@bouffardgroup.com
| 713.540.7500