Houston-based Civil Engineering Firm, Ward, Getz & Associates, LLP, Celebrates a Milestone: 10 Years in Business
From two engineers working at a dining room table to more than 40 and growing; WGA looks toward an even brighter future for its team.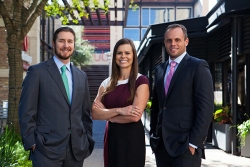 Houston, TX, April 07, 2017 --(
PR.com
)-- Just over 10 years ago, Steven R. Ward, PE and Ryan Getz, PE were project engineers at large firms in Houston. Having met while civil engineering students at Texas A&M University, and both working in the greater Houston area, they remained close friends. "Ryan and I both had the fortune of going to work directly out of school for some great firms," says Ward. "We learned a lot in those years, but we both wanted something more. We saw places where the client experience could be improved, as well as the overall culture and career trajectory for the engineers. We figured it was time for someone to change the game."
In early 2007, Ward and Getz left their jobs and started Ward, Getz & Associates, LLP (WGA). The company consisted of the two partners working from one computer at a kitchen table, and a list of contacts to call.
"Luckily, the Houston business community is a nurturing environment that is prime for the growth of new and established businesses alike," says Getz. "We were passionate and had a hard-working mindset to succeed. This community truly helps cultivate that."
And succeed they did. WGA opened as a new brand, with no clients and zero name recognition. The partners know they needed to quickly establish themselves as a reputable business in order to prosper. The Houston business community, with its extensive resources, multifaceted support system, and entrepreneur-friendly atmosphere, helped build WGA into a multi-million-dollar engineering consulting firm within several years.
In 2012, Ward and Getz added a third partner to the firm: Stephanie Anderson, PE, LEED® AP. A fellow Civil Engineering graduate from Texas A&M, Anderson had quickly become well known in the industry for her attention to detail and extraordinary client service. She brought a wide range of experience in civil design and development as well as a new dynamic to the team.
"The demand for work and the culture that supports Houston businesses has definitely made it a win-win for our company and helps position WGA in the market," says Ward. "We are now an established firm and have an excellent reputation in the industry and business community. We provide solid engineering solutions and our clients and projects are quickly increasing. Maintaining a staff of experienced and professional talent to support the business and work demand is critical to the continued success of our business. We have an outstanding team and work for some amazing clients. At the end of the day, that's why we went into business."
In addition to WGA's Houston headquarters, it opened a San Antonio office in August 2016 to expand into South Central Texas. The firm is looking at markets within the state and across the nation and hopes to open more offices in the near future.
Houston: 2500 Tanglewilde, Suite 120; Houston, TX 77063
San Antonio: 9901 IH 10 West, Suite 800; San Antonio, TX 78230
About WGA
Ward, Getz & Associates, LLP (WGA) specializes in civil engineering, land development, municipal engineering and construction phase services. The firm currently has over 40 employees and offices in Houston and San Antonio.
For more information: www.wga-llp.com
Contact
WGA
Angie Goings
713-789-1900
www.wga-llp.com

Contact