Event Center to be Auctioned April 29th
One of the most unique and amazingly fun income producing properties in America will be Auctioned and sold to the highest bidder April 29th, 2017. Property includes: Golf Course, Campground, Amphitheatre, Olympic Swimming Pool, Restaurant, Sports Club, Pro Shop, Ginseng Farm, all inventory and equipment and much more.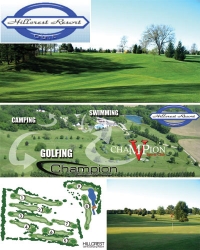 Quad Cities, IL, April 07, 2017 --(
PR.com
)-- Unique property in the heart of the Midwest being auctioned off April 29th, 2017.
Hillcrest Event Center is an income producing property in Illinois that includes a golf course, campground, natural amphitheater, Olympic sized swimming pool, restaurant, sports club bar, pro shop, and ginseng farm. The auction includes all equipment that is on the property.
The equipment includes restaurant equipment, table service, state of the art bar and draft system, walk in cooler & freezer, pool chaise lounges, outdoor table and chairs, and 8' event tables. Golf course equipment includes tractors, top dresser, chemical spryer, fairway mowers, tee mowers, compressors, generators, tools, lawn tools spreaders, straight blades front loader, box blades, fuel tanks, maintenance building, golf carts and more. Event equipment and props too numerous to mention, including Haunted woods, pool party themed props, fire pits, picnic tables and more.
For those that like a more private option the property could easily be converted over into a Single family residence (SFR) with Olympic pool and private golf course. The club house can easily be converted to a SFR with 3 bedrooms 2.5 baths gourmet kitchen, open concept living, fireplace, walk out patio and more.
This auction is a great opportunity considering the Property Land, Buildings and Infrastructure replacement cost value is at just over $5,000,000 and the auctions opening bid starts at $650,000. Not to mention the Ginseng Crop to be harvested in 2020 is valued at $500,000 to $750,000 and can be insured.
For more information on this property go to
Auction Site
.
Contact
Hillcrest Event Center
Dan Kost
312-436-0500
www.HillcrestEventCenter.com
Brent Berry Senior Advisor / Auctioneer brent.berry@svn.com (C) 612.390.3621 (O) 952.820.1629

Contact
Multimedia
This property is so unique that it offers multi opportunity for revenue. Run one department or multiple departments or build over time using each outline plan or keep the property as your own private single-family residence.