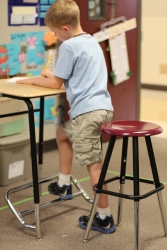 College Station, TX, April 11, 2017 --(
PR.com
)-- As part of their partnership with Let's Move! Active Schools,
Stand Up Kids
announced 10 winning schools across the U.S. to each receive a $5000 grant for the purchase of a classroom of standing desks from
Stand2Learn
. Together, these passionate organizations and businesses are fighting the upward trend of childhood obesity.
In June 2013, Juliet & Kelly Starrett volunteered at their daughters' school field day running the sack races. They saw that many of the kids were overweight and lacked the basic fitness to complete the sack races. They realized that kids are losing significant ranges of motion, are overweight, and not fit because they are sitting too much. The couple created Stand Up Kids in 2015 and has since raised over $200K through their non-profit organization to help schools get standing desks into their classroom. Most recently, Stand Up Kids raised $50,000 to fund an initial grant program to provide 10 schools with a classroom of standing desks. Stand Up Kids co-founder, Juliet Starrett stated, "We were simply crushed by applications!" The desire and need to get children moving are a given. "Now we just need to raise way more money to meet the demand," stated Starrett.
Selecting Stand2Learn as a partner was an easy selection. Both companies share a goal to make a positive change in children's health and get children moving. Michele Klumb, Stand2Learn VP said, "We were honored to be part of this partnership. Together, we can all make a huge impact in the health and wellness of our children. Every step of this ladder to health takes a dedicated team. We are just one rung leading to healthier children."
Based on
Dr. Mark Benden's
, Department Head/Associate Professor/Director of the Ergonomics Center at Texas A&M, years of research on the subject student standing desks, the Stand2Learn design:
· Increases calorie burn rates 17-35%
· Decreases BMI percentile by 5%
· Increases student engagement by 15%