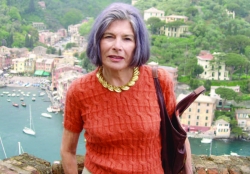 Uncasville, CT, April 11, 2017 --(
PR.com
)-- Poets Choice Publishing working with the MeredithFoundation.org, has recently been established to promote high quality poetry by established and emerging poets, including this year's 2017 Meredith Award for Poetry presented to Peter Meinke.
The William Meredith Foundation celebrates National Poetry Month with publication of Laura Brylawski-Miller's exquisite fourth collection of poems, FIRST, DO NO HARM. She is a writer of extraordinary talent and erudition, sensitivity and emotion, and praise for her work has been euphoric:
"These are powerful and life-affirming poems. They offer us, as a tree 'offers shady / comfort to the tiny / rabbit at breakfast / in the hospice park,' not hope, exactly, but affection, mercy, and ordinary kindness."
- Peter Meinke, Poet Laureate of Florida
"Her vision - both inner and outer - is exact, and she renders what she sees with a fine precision and a fine avoidance of fixity. Her world moves, in 'words like water in the sun.'"
- Henry S. Taylor, Pulitzer Prize -Winning Poet for THE FLYING CHANGE
Like a soothsayer, or shaman she intuits nature as it interacts with human consciousness: the sun "bleeds on the horizon," "The new-­‐born sea" breathes quietly," the seaweed "holds winter's spent fury in long green fingers." Like the imagist poet Paul Valéry, she knows that poems are not made of ideas, but of images, and this philosophy reveals the synchronicity of physical fact and spiritual reality. Mind and body become one, interacting with and creating the world at once, the method of magic.
The mission of (WilliamMeredithFoundation.org) is to continue the legacy of the great American spirit, William Meredith: former US Poet Laureate, Navy Aviator in WWII and Korea, master arborist and beloved teacher at Connecticut College for nearly four decades. His name and work continue through support of the arts in residencies at the Meredith home in Uncasville, Ct., and sponsorship of exhibitions and publications through its auxiliary publishing house, Poets Choice (Poets-Choice.com). The annual William Meredith Award for Poetry was awarded this year to Peter Meinke for poetry and essays: TO START WITH, FEEL FORTUNATE.
Laura Brylawski-Miller was born and raised in Milan, Italy where she was educated in Classic Humanities. She holds a degree in Health Sciences from George Washington University, and an MFA in Creative Writing from The American University. Previous poetry collections include: Luna Parks ,The Snow on Lake Como, and Exile at Sarzana. She is the author of three novels: The Square at Vigevano, The Medusa's Smile, and The Shadow of the Evening (L'Ombra della Sera.)
She lives in Arlington, VA, and travels frequently between the U.S. and Italy.