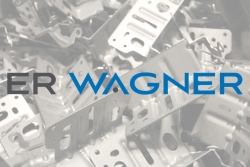 Milwaukee, WI, April 18, 2017 --(
PR.com
)-- Lew Schildkraut, President and CEO of Wisconsin-based manufacturer ER Wagner, makes a point to visit the site of ER Wagner's new 157,000-square-foot corporate headquarters and state of the art manufacturing facility currently under construction in the Village of Menomonee Falls, WI.
"It's really starting to take shape," Schildkraut said during a recent tour of the site. "And just think, before the end of this year we'll be calling this home."
For the 116-year-old manufacturer of high-quality hinges and stampings, machined and wrapped tubes, and casters and wheels, 2016 was a banner year for securing new business – one company leaders said would be hard to top. If projections are correct, 2017 will be an even bigger year for ER Wagner.
With new investments in facilities, equipment, automation technology, machining capabilities and workforce development, ER Wagner is betting that not only will American manufacturing make a rebound, that rebound will begin in Wisconsin.
"ER Wagner has been a U.S. manufacturer for 116 years," Schildkraut said. "This new facility and investments in equipment, workforce and technology demonstrates our ongoing commitment to U.S. manufacturing."
A new beginning
While ER Wagner has been designing, developing and supplying high-quality parts for global manufacturers and distributors for more than a century at its Milwaukee facility, located at 4611 N. 32nd St., the company broke ground on the new Village of Menomonee Falls facility in July 2016.
When it opens in mid-2017, the new building, located at W130 N8691 Old Orchard Road, will include approximately 135,000-square-feet of manufacturing space and 22,000 square-feet of office space. Plans also allow for future growth, providing for another 45,000-square-feet of additional manufacturing space when the time comes.
At the time of the groundbreaking, both U.S. Senator Ron Johnson (R-Wis.) and Menomonee Falls Village President Joseph Helm praised the company for its investment in the community.
"That's what makes our economy grow, prosper and thrive," Helm said. "It's companies that are willing to come, make an investment, make a commitment, take the risk and provide wonderful jobs for families and people."
But Schildkraut said the building is only the start. It's what ER Wagner plans to put inside the new building that really has the company excited.
New technology
Since 2015, ER Wagner introduced High Speed, Precision Manufacturing (HPM) systems with Bihler technology for making tight tolerance wrapped tubular parts, new tube cutting and machining capabilities and automation including robotic solutions. While that technology and other current manufacturing processes will be brought over to the new ER Wagner facility, the company is also adding a new 600-ton servo press that will greatly increase ER Wagner's metal stamping capabilities.
Available for production in late 2017, this machine features the latest technology in metal stamping, which means ER Wagner will be able to stamp bigger parts made of thicker metal – including high-strength metals – with complex geometries and tighter tolerances faster and more efficiently.
"This is another significant investment in technology that is the cornerstone of our future," said Chief Sales and Marketing Officer Brad Gador. "These investments in equipment and facilities further enhance ER Wagner's ability to bring design solutions and best value to our customers."
Workforce development
Of course machines are only as good as the people who run them, and ER Wagner is taking workforce development very seriously – investing in extensive training. They want their workers to not only be able to run the machines properly, they want them to be masters of metal.
Currently, the company has 150 to 160 workers at its Milwaukee facility and a hundred or so more working in its continuous hinge product line facility in Brookfield, Ill.
The company's vision is to grow sales by 50 percent over the next 5 years, and the company anticipates an increased ability to attract new employees at their new state of the art facility that includes employee-centric amenities such as an air-conditioned manufacturing plant, outdoor walking trails and modern indoor and outdoor employee break rooms.
As Schildkraut watches workers busily working on constructing ER Wagner's new home, he is excited to see the vision for the company becoming reality before his eyes. "This is the future, right here, this is where we begin our next 100 years."
ER Wagner has been designing, developing and supplying high-quality casters and wheels, hinges and stampings, and machined and wrapped tubes for global manufacturers and distributors for more than a century. Based in Milwaukee, Wis., with production facilities in Brookfield, Ill., ER Wagner is one of the few domestic manufacturers in the hardware production industry. For more information, visit http://erwagner.com.