Fairways & Freeways: The Journey Begins This Week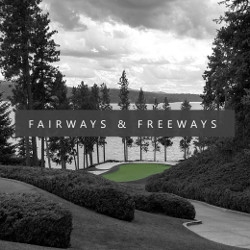 Boise, ID, April 18, 2017 --(
PR.com
)-- This week, the Fairways & Freeways™ journey begins. The book, and social media coverage, will chronicle a 50 year old man's 50 day, 50 state, 50 rounds of golf, road trip. Crisscrossing the country, sharing in real time via social media and the Fairways & Freeways™ blog, while playing some of each state's most interesting/beautiful courses; Soren Jacobsen, and his wife Melanie, will offer a unique multi-media experience as a run up to the book.
The voyage begins April 21st, 2017 in Oregon, culminating June 9th in Hawaii. Advance introductions to all of the courses are available on the Fairways & Freeways™ blog. Each round will be played first thing in the morning, with the road trip to the next state serving as the afternoon's agenda. Beyond just golf, as the "Freeways" portion of the title indicates, the local flavor, history, and people of each state will be highlighted; both in real time posts and the book as well.
"It's been a dream of mine to play golf in all 50 states since I was in my early 20's. I just wasn't sure if, at age 50, I'd be physically able to do it," says Jacobsen. "Now I'm glad I've waited, as I not only have a greater curiosity, but also appreciation, for the diversity of the people in this country. I really want this story to reflect that, in addition to the golf adventure."
About Fairways & Freeways
Fairways & Freeways™ is the upcoming book which will chronicle a 50-year-old man's road journey across the country, playing a round of golf in all 50 states over the course of 50 days. The book intends to discover not only beautiful and unique golf courses, but also show interesting road-side glimpses into the fascinating diversity of the people, communities, and history of this nation. A full list of courses and dates is here:
http://fairwaysandfreeways.com/fnf/index.php/2017/04/17/all-50-courses-list-view/
To learn more visit
www.fairwaysandfreeways.com
.
Contact
Fairways & Freeways
Soren B. Jacobsen
208-941-1441
www.fairwaysandfreeways.com

Contact