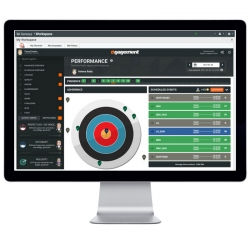 San Francisco, CA, April 24, 2017 --(
PR.com
)-- Contact center automation is becoming the industry standard for effective customer service, and
nGUVU
is now providing an integrated approach to ensuring call center agents are ready to excel in today's fast-paced environment.
Leveraging the latest developments in Machine Learning and Gamification, along with social media-based workflows, nGAGEMENT is changing the way contact center teams collaborate with each other, and provide service to customers in both inbound and outbound organizational models.
"The contact center industry is rapidly shifting, and it's important to deliver real value to customers. Beyond a compelling interface, an effective workforce optimization solution has to be built on sound technology and behavioral science. And it has to solve business issues that are well-defined," said Pierre Donaldson, Chairman & CEO at nGUVU Technologies. "nGAGEMENT's benefits are numerous – decreased attrition rates, increased employee loyalty, easy collaboration across teams – and what it provides in terms of ROI is simple: lower operating costs and increased agent confidence and performance.
"We are focused on bringing innovative solutions to market, in conjunction with the cultural realities of today's consumer expectations, as well as the immediate service levels that emerging technologies have made the standard for operational excellence."
nGUVU's customers agree. According to Pierre-Marc L., Operations Director with one of Canada's leading telecommunications providers: "We are extremely satisfied with nGUVU, and the positive first impression nGAGEMENT made with our team... the interface is extremely intuitive.
"The nGAGEMENT app provides weighted KPIs allows us to identify top agents based on their merits, rather than a single, isolated metric. We want to recognize employees that stand out based on their overall performance, while following best practices to accomplish their tasks."
"We are eager to introduce our new developments at North America's premier contact center industry showcase, including our Genesys Workspace integration, which combines Omnichannel desktop capabilities with our Employee Engagement platform. By bringing these solutions together, we are ensuring a seamless experience for both agents and customers," added Pierre Donaldson.
About nGUVU
nGUVU brings today's reality to your contact center with nGAGEMENT, designed specifically for the contact center industry. nGAGEMENT leverages social media concepts and proven performance drivers to build intrinsic motivation and influence agent behavior, increasing their level of engagement and optimizing team performance.
Customers benefit from the power of their existing Genesys platform to drive Machine Learning-based behavioral analytics, allowing them to predict and prevent attrition and absenteeism, while increasing peak productivity and workforce performance.
nGAGEMENT is available on the Genesys AppFoundry, as well as at www.nguvu.com