CracKerman Announces New Lineup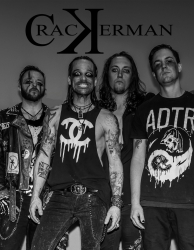 Las Vegas, NV, April 21, 2017 --(
PR.com
)-- Las Vegas alternative rock band CracKerman have announced their new lineup (pictured from left to right)
* Ryan Bixler (bass)
* Tyler Lawson (vocals, guitar)
* Jon Papineau (drums)
* Kristian Roloff (guitar)
The new lineup of CracKerman will make its live debut at ShepFest, set to take place on May 20th at Rodéo Raggz in Las Vegas, Nevada.
Frontman / Founder Tyler Lawson had this to say, "Very excited to debut the new line up. This version of CracKerman is how I always imagined it. It's fuller and more driven. Kristian adds a whole new dynamic which totally makes this art, the songs ... more real. Jon and Ryan are really great to work with also. I had a lot of fun with Jason Froberg and Anthony Gamez and wish them the best, but this version of CracKerman is by far better. I'm positive everyone else will agree. Peace - Love – CracKerman."
The current lineup has been in the studio recording "They Call Me White Trash" the new single will be released later this spring followed by Drop Dead Gorgeous, a 5 song EP.
Photo credit: Abigail Buckler Photography
Online: crackermantheband.com
Facebook: @crackermantheband
Twitter: @TylerCracKerman
Instagram: @tyler_crackerman
Contact
Jayde Monroe Productions, LLC
Julie Pyle
407.435.6179
jaydemonroe.com

Contact