Sarasota Memorial Hospital Quad Squad Delivers Natural Quadruplets
The Corcoran quadruplets ­- three boys and a girl naturally conceived - were delivered by cesarean section at Sarasota Memorial Hospital on March 28. Ranging from two to just over three pounds, the babies were born just moments apart, with 40 perfect fingers and toes.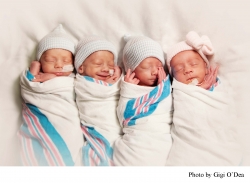 Sarasota, FL, April 20, 2017 --(
PR.com
)-- This Mother's Day promises to be a special one for Kyle and Amanda (Francoletti) Corcoran – the Englewood couple is counting down the days when they can bring home their four newborn babies.
The Corcoran quadruplets - three boys and a girl - were safely delivered by cesarean section at
Sarasota Memorial Hospital
on March 28. Ranging from two to just over three pounds, the babies were born just moments apart, between 7:59 and 8:01 am that morning.
Born at 31 weeks with 40 perfect finger and toes, Harrison, Preston, Jackson and Lila are all thriving in Sarasota Memorial's Level III Neonatal Intensive Care Unit (NICU), the most advanced intensive care nursery in the region for premature, high risk and critically ill newborns.
Most quadruplets are born early, typically by 30 weeks gestation, due to the physical demands supporting four babies places on the body. Amanda, who was hospitalized on bed rest for a month leading up to the birth, made it to 31 weeks before her water broke.
"You can't help feeling nervous," Amanda said, recalling the perfectly orchestrated but whirlwind surgical preparations that followed. "When you give birth at 31 weeks, you don't know what to expect, or if everyone will be all right...
"But it's been incredible having the four of them in such good hands," she added. "We've had a tremendous team helping us every step of the way. It made the transition from being pregnant to being parents an easy one."
Dubbed the Quad Squad, Sarasota Memorial's team included Amanda's obstetrician Michael Shroder, MD, and his partner Greg Towsley, MD, both from Sarasota Memorial's First Physician's Group; Sarasota Memorial's Maternal-Fetal Medicine Specialists Felice Baron, MD, and Stephanie Hedstrom, MD; a team of neonatologists, neonatal nurses and nurse practitioner from the NICU; labor & delivery nurses; an anesthesiologist and nurse anesthetist; respiratory therapists; and surgical scrub and multi-skilled technologists.
After the delivery, Harrison, Preston, Jackson and Lila Corcoran were transferred to the multiples suite in Sarasota Memorial's NICU. Although stationed near each other, they are being cared for by a team of neonatologists and nurses in individual Giraffe Omnibeds, specialized intensive care incubators that help monitor and control several elements critical to a premature baby's recovery and development, temperature, weight, moisture, noise and touch.
Amanda and Kyle are an active part of the healthcare team. With coaching from their NICU team, the new parents spend their days like many others changing diapers, taking temperatures, feeding and bathing their babies. But unlike most, they also monitor feeding tubes and vital signs, and sometimes even rotate the position of their pulse-oxygen monitors.
The babies, who now average about 4 pounds, still have some maturing to do before they go home. They likely will be discharged on different days in the coming weeks as they near their original due date, May 29, and achieve individual and developmental milestones.
Although multiple births are more common in this era of fertility treatments, higher order multiple births (triplets and quadruplets) are still very rare, and the hospital planned their delivery very carefully, with weekly conferences and practice scenarios that helped prepare the 30-plus member delivery team for the big day.
Sarasota Memorial has delivered at least five sets of quadruplets in the past 20 years. Dr. Shroder has delivered three sets at Sarasota Memorial and a fourth in his 36-year career, but said the Corcoran's were his first set of naturally conceived quads, which happens only about once in every 800,000 births.
Amanda and Kyle have joined a multiples support group and say they are thankful for the outpouring of support they are receiving from family and the community of Englewood, which is looking forward to welcoming the quadruplets home.
"We still don't know what to expect – we're at that stage where we don't know what we don't know," Amanda said. "But we're looking forward to the day when we'll be able to see all four of them sleeping together in our own home. We don't know what's it like just to have one, so our normal is four babies."
To see a video chronicling the delivery, visit
Sarasota Memorial's YouTube channel at: https://youtu.be/vRoJkq8_FhE
Contact
Sarasota Memorial Health Care System
Kim Savage
(941) 917-6271
www.smh.com

Contact