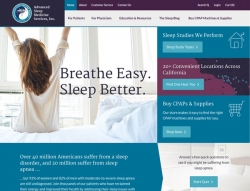 Encino, CA, April 25, 2017 --(
PR.com
)-- Advanced Sleep Medicine Services has launched a new online store at
www.sleepdr.com
offering CPAP equipment and sleep therapy accessories. The new online store allows current patients and new customers the option to conveniently shop for CPAP equipment and accessories from the comfort of their own home. Customers can shop for standard and travel CPAP machines and replacement supplies, CPAP cleaning and sanitizing equipment and alternative sleep therapies from the industry's leading manufacturers.
Unlike most other online sellers of CPAP equipment and accessories, ASMS also accepts health insurance, including most commercial plans and many medical groups in Southern California.
Advanced Sleep Medicine Services (ASMS) has been the leading provider of diagnostic sleep testing and therapy services in Southern California for over 20 years and is a trusted source of information online. For the past 10 years, the www.sleepdr.com website has been used by ASMS patients to download educational materials and information about sleep studies and CPAP therapy. The ASMS Sleep Blog contains easy-to-use educational information about sleep health, sleep disorders and therapy and reaches a wide and engaged audience. The website, including the new store, are securely hosted and use Secure Socket Layer (SSL) encryption.
Sleep apnea is a serious medical condition that affects approximately 20 million Americans—nearly one out of every 16 people. Sufferers of sleep apnea are unable to achieve restful sleep, no matter how long they spend in bed. Untreated sleep apnea can lead to serious health conditions such as hypertension, heart disease, diabetes and stroke.
"Our new online store at www.sleepdr.com makes managing sleep apnea therapy even easier. We recognize that many people prefer to do most of their research and shopping online. By offering this easy option of online shopping in addition to our brick-and-mortar sleep centers across California, we hope to reach more patients." - Kermit Newman, CEO of Advanced Sleep Medicine Services, Inc.
Advanced Sleep Medicine Services, Inc.'s mission is to empower sufferers of sleep disorders, like sleep apnea, to lead more fulfilling lives by improving their sleep. They are the leading provider of in-center and in-home (HST) sleep studies, PAP therapeutic devices, and replacement PAP supplies in Southern California and are contracted with most medical groups and commercial health plans. Advanced Sleep Medicine Services, Inc. partners with independent physicians who are at the forefront of the field of sleep medicine to provide high-quality, affordable, result-oriented and patient-centric diagnostic and therapeutic sleep medicine services.