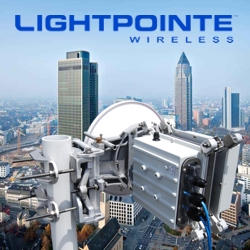 New York, NY, April 25, 2017 --(
PR.com
)-- LightPointe, a leading manufacturer of millimeter wave point-to-point radios and laser bridges used for ultra high capacity building-to-building data network connectivity, security camera backhaul, and wireless backhaul for service providers has added two new radio configurations to its 80 GHz radio portfolio. The AireLink 80 Series now includes four radio configurations with antennas ranging from a small and attractive 8 inch model, for deployment in ETSI countries in Europe, to a large 3 foot system capable of transmitting over 12 miles, depending on geographic location and availability requirements. Such point-to-point radios are deployed by businesses, 4G and 5G telecom carriers, and other organizations to transmit massive streams of data between buildings or towers, thus avoiding the installation and recurring costs of trenching for fiber.
"LightPointe's AireLink 80 Series of wireless millimeter wave radios is designed for enterprise building-to-building/campus connectivity, ISPs, security camera backhaul networks, and mobile wireless service providers seeking fiber-like multi-gigabit backhaul capacity," said Dr. Heinz Willebrand, CEO of LightPointe and recognized as one of the 'Forty innovators building the foundation of the next-gen electronics industry' by EE Times. "Our affordable and state-of-the-art backhaul radios can be equipped with four high gain parabolic antennas of different sizes for shorter and longer distance applications. In addition, AireLink radios are available with built-in Bluetooth street-level remote link and performance monitoring, a unique smartphone enabled LightPointe feature which aids in installation, mapping, and ongoing monitoring."
With up to '5 nines' availability, which means less downtime than 5.26 minutes a year, millimeter wave Wireless Fiber systems are now the preferred method for connecting buildings and cell towers. Aside from being lower cost than trenching or leasing fiber, LightPointe's AireLink Series enables organizations to own their own private network and help protect sensitive employee and customer data from eavesdropping and cyber security issues, which is obviously a huge challenge and potential liability in today's world.
"In addition, by using LightPointe's Dual Pole Adapter, customers can easily double the bandwidth by adding another AireLink 80 radio to an existing radio installation and double the bandwidth and throughput," continued Dr. Willebrand. "Most importantly, our goal with the AireLink 80 Series was to create a 'future-proof' solution which can grow with the demands of the customer's network via innovative and flexible software license upgrades. This makes the AireLink 80 Series a safe, long term investment, which also provides a fast ROI compared to alternative radios or fiber."
AireLink Series radios are manufactured in San Diego, California at LightPointe's Advanced Design and Production Facility. LightPointe is dedicated to quality and is a certified ISO 9001:2008 company with sales and technical support located worldwide.
About LightPointe
LightPointe (www.LightPointe.com) is a San Diego-based manufacturer of wireless Gigabit capacity bridges for enterprise and 4G/LTE carrier markets, including small cell backhaul. The company also manufactures a line of Ultra Low Latency (ULL) wireless bridges utilized for High Frequency Trading (HFT) networks, Data Centers, Data Warehousing, and Cloud Networks. The company is owned by a billion-dollar Silicon Valley firm and employees. LightPointe has representatives worldwide, including Germany, France, United Kingdom, Italy, Spain, Brazil, Argentina, Chile, Mexico, Canada, China, Singapore, India, and Japan. LightPointe radios and Free Space Optics products compete with Siklu, Bridgewave, Ubiquiti, and other wireless bridge brands.