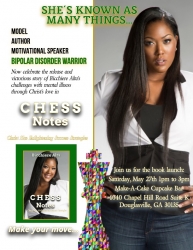 Douglasville, GA, April 28, 2017 --(
PR.com
)-- On Saturday, May 27, 2017, Leading Through Living Author Bicchiere Alta will release "CHESS Notes: Christ Has Enlightening Success Strategies" detailing her battle with Bipolar Disorder. The book signing will be held from 1pm to 3pm at the Make-A-Cake Cupcake Bar 4040 Chapel Hill Road Suite K, Douglasville, GA 30134. It is free and open to the public.
Bicchiere Alta was 23 when she was diagnosed with Bipolar Disorder after (another) manic cycle of extravagant spending, promiscuous dalliances, and violent abuse from her now ex-boyfriend. She knew something had to change – and it was more than medicine could achieve. "CHESS Notes" is the story of how Bicchiere Alta embraced Christ's message of love and total acceptance to bravely face mental illness and empower others to do the same.
Join Bicchiere Alta and her parents Dianne and Cleveland Wright as they share their family story of heartbreak, confusion, enlightenment and victory as Warriors for Mental Health!
"CHESS Notes" will be available for purchase May 27, 2017 at the signing, and also online at Amazon.com.
Bicchiere Alta is a model, motivational speaker, author, and Bipolar Disorder Warrior. For more information, visit www.BicchiereAlta.com. Leading Through Living has the pleasure of being the publisher of Bicchiere Alta's biography, and enjoys sharing empowering work with the world. For more information, visit www.LeadingThroughLiving.com