Martin Lawrence Galleries San Francisco Exhibits Anne Faith Nicholls
Join Martin Lawrence Galleries San Francisco for an exhibition showcasing fascinating original works by neb-surrealist artist Anne Faith Nicholls - a graduate of the Academy of Art University, here in San Francisco. Opening Reception & Meet the Artist will be on Saturday, May 13, 2017 from 6-8PM at Martin Lawrence Galleries, 366 Geary Street, San Francisco 94108 (in Union Square)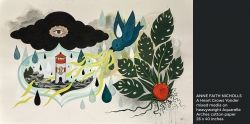 San Francisco, CA, May 03, 2017 --(
PR.com
)-- "Dreams reveal truths concealed" - Anne Faith Nicholls
Anne Faith Nicholls is a truly unique addition to the contemporary art scene. She provides a refreshing look at the soul of the modern woman and artist. Born with a back-wards heart, Nicholls has the inner strength that is inspirational and captivating. Her sense of adventure and exploration began in Victoria, British Columbia. Restless to travel to new places, she made her journey south to San Francisco, graduating from the Academy of Arts University, and then on to Southern California where she resides today. She has traveled the world with a focus on studying the masters. This commitment to traditional painting has contributed to the development of her own unique style of utilizing both oil and acrylic to achieve a signature layered look and a saturated, antiqued, color pallet.
Nicholls early career success began in the California Pop Surrealist and "Low Brow" movements, appearing regularly in Juxapoz Magazine. However, she hesitates to confine herself to recent contemporary movements, citing inspiration from Surrealist and Traditional Painting as more key to her work.
Nicholls style is best described as Neo-Surrealism, drawing inspiration from early American Folk Art, French and Socialist Surrealism, and Society Portraiture of the late 19th and early 20th centuries. Her favorite artists are Rene' Magritte, Frida Kahlo, Neo Rauch, Ingres, Alex Katz, Chuck Close, Mathew Barney and Marcel Duchamp. She came up in the Los Angeles art scene exhibiting alongside some of her mentors. Nicholls cites the Surrealist Manifesto as an inspiration, emphasizing the subconscious or the dream state in the core of her imagery. Her original paintings have been featured in private collections, galleries and museums throughout the world and her illustration work has been featured in many art-related publications.
Since 1975 Martin Lawrence Galleries San Francisco and their 8 other locations in North America have assisted collectors in making their art acquisitions an exciting and rewarding experience. They specialize in original oil paintings, sculptures and limited editions by Warhol, Haring, Murakami, Chagall, Picasso and many others.
Follow Martin Lawrence Galleries on Twitter (@TweetMlG), Facebook (@martinlawrencegalleries) and Instagram (@martinlawrencegalleries) #annefaithnicholls
Contact Information:
Martin Lawrence Galleries San Francisco
Katia Graytok
203-989-2073
http://gearydirector@martinlawrence.com
415-956-0345
Contact
Martin Lawrence Galleries
Katia Graytok
203 989 2073
wwww.martinlawrence.com

Contact