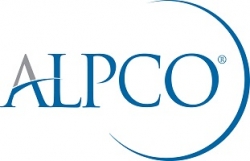 Salem, NH, May 02, 2017 --(
PR.com
)-- ALPCO, a leading producer of research and clinical immunoassays, announced it will launch new gastrointestinal and inflammatory bowel disease (IBD) assays at Digestive Disease Week® May 7-9, 2017 in Chicago, IL. Included in this release are the
Zonulin Stool ELISA
and
Zonulin Serum ELISA
to aid in the study of gut permeability and celiac disease. Both assays specifically quantify levels of zonulin with no cross-reactivity to haptoglobin 1 or 2. These new zonulin ELISAs expand ALPCO's current gastrointestinal assay panel to investigate bile acids, calprotectin, alpha-1 antitrypsin, lysozyme, secretory IgA and pancreatic elastase.
ALPCO will also introduce its therapeutic drug monitoring assay portfolio.
Therapeutic drug monitoring of biologics and antibodies against biologics in IBD
can provide significant information in determining the appropriate dose. ALPCO's therapeutic drug monitoring panel includes ELISAs for testing response to the commonly used biologics adalimumab, infliximab, golimumab, and vedolizumab. These ELISAs are Health Canada Licensed, however remain for Research Use Only in the United States.
When asked why the company chose to launch these products at Digestive Disease Week®, ALPCO President Sean Conley explained, "This meeting hosts physicians, researchers, and academics in the gastroenterology field who, like us, share the common goal of advancing research to help improve patient outcomes. As such, we felt this was the best arena for us to showcase new product offerings that can not only aid in gastroenterology research, but also eventually improve the quality of care that healthcare professionals can provide to their IBD patients."
To learn more, visit ALPCO in booth 2211 at Digestive Disease Week®, or visit
www.alpco.com
.
About ALPCO
American Laboratory Products Company (ALPCO) was founded in 1991 as an importer and distributor of immunoassay-based products for the North American life science markets. The company has since grown into a premier channel representing over 60 collaborating partners from around the globe. Today, ALPCO offers a wide range of testing solutions, providing scientists and healthcare professionals with vital tools for advancing research and improving quality of care.
Digestive Disease Week® and DDW® are registered trademarks of the DDW LLC.