Actor Melvin Jackson Jr. Launches for Your Emmy Consideration Nomination Campaign
Actor-Writer-Producer Melvin Jackson Jr. has been submitted for consideration for an Emmy Nomination for Outstanding Supporting Actor in a limited series or movie. He is rallying support from true fans of great acting and his numerous devotees to help make this submission a win.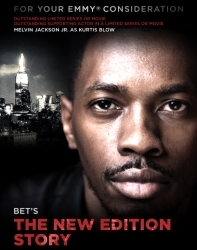 Los Angeles, CA, May 03, 2017 --(
PR.com
)-- In January 2017 BET Network aired "The New Edition Story" a three part mini-series. Melvin provided an uncanny portrayal of rap legend Kurtis Blow. During the short yet powerful scenes, his delivery of lines and the demeanor of the character made a powerful impact on viewers. The script was written to show one of the many unpleasant experiences a young New Edition endured during their journey to success. Melvin Jackson Jr., channeled his incredible acting abilities, added that to his admiration for the rap icon and left audiences feeling the hurt and disappointment the actual group felt over 20 years ago!
This is not the first time fans have been mesmerized with Jackson's depiction of a rogue character. The beginning of his fame came from his well-known roles on HBO's "The Wire" (as Bernard) and the CW's "Everybody Hates Chris" (as a reoccurring bully). Although fans looked forward to seeing him on each show, they despised the characters because his talent makes each role so believable. He gives life to any character.
Being completely opposite of each of the mentioned characters, in reality Melvin Jackson Jr., is a humble, God fearing, caring husband, father, youth mentor and business man who simply gives his all and best to any role given.
On a mission to keep his acting skills sharpened as well as create opportunities for striving actors, Melvin has continued developing his love of the art by writing, producing and directing films under the name of his company, Urban Vision Entertainment.
Often being dubbed as comedic legend Eddie Murphy, Melvin Jackson Jr., has graced many stages sharing a style of his on with his hilarious comedy act, "This is My Life, So Why Are You Laughing?"
"I'm not doing this for me, I'm also doing this to help inspire others to always believe in themselves. I'm representing the underdogs, those without a voice, and aspiring actors," stated Jackson.
Melvin is slated to portray rapper Kurupt in the DPG 4 Life movie currently in pre-production.
The New Edition mini-series captured a reported 29 million viewers making it one of BET's highest ranking premiere in the last five years.
Contact: Tonya Carmouche, Publicist -562.551.8277
Contact
TCPR
Tonya Carmouche
424-213-0442
sirjonesmedia.com
tcpr4u@yahoo.com

Contact