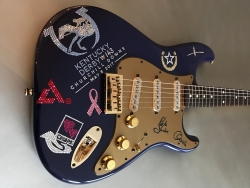 Los Angeles, CA, May 05, 2017 --(
PR.com
)-- Richie Sambora will play and donate one-of-a-kind guitar at Barnstable Brown Gala for the fourth year in a row. Hall of Fame Singer, Songwriter and Legendary rock guitarist Richie Sambora will not only attend Louisville's prestigious fundraising event, The Barnstable Brown Celebrity Gala for Diabetes, he also will play an Austrian Crystal Kantor Guitar Designed by Sambora. The Austrian Crystal Kantor Guitar is celebrating the running of the 143rd Kentucky Derby and is Sambora's fourth time headlining the event.
Sambora changing up some tradition for a more worthy cause: Fighting Diabetes
Sambora is attending with fellow RSO band mate and platinum selling artist, Orianthi Panagaris who was Michael Jackson's "This Is It" tour lead guitarist. Sambora who designed and is donating this priceless guitar for a fourth year in a row is changing how the auction goes down this year. "My idea this year is to invite all the artists to play this one of a kind stunning instrument and autograph the back when finished," Sambora says. "This way the bidding can go on all night long while all of us can leave a little bit of love behind on that six string. I'm sure after Orianthi, Sammy Hagar, Kid Rock, Travis Tritt and all the other talented musicians give it spin, the value and auction donation will be the highest to date." Last year, Sambora's guitar auction raised about $40,000 for the Barnstable Brown Diabetes Foundation.
After a sold-out sweet European tour ending at the O2 arena, Sambora and Panagaris are currently putting the final touches on their breakout album due out in the fall. Sambora is credited with writing and performing some of the greatest rock anthems in history, like "Living on a Prayer," "Wanted Dead or Alive," "It's My Life," and "Bad Medicine" to name a few.
Richie said, "Every year our guitar design gets even more remarkable. This year's dark purple guitar with gold and Austrian Crystals symbolizes inspiration and gratitude. I am very proud to see the logo of
Csnaps.org
, a humanitarian platform I co-founded that monetizes stories and images to fund important causes like the Barnstable Brown Diabetes Foundation. I agree with Pope Francis on his statement 'the more powerful you are, the more your actions will have an impact on people, and the more responsible you are to act humbly.'"
Patricia Barnstable Brown, co-founder of the Barnstable Brown Foundation, said, "One Austrian Crystal guitar played by so many legends and personally autographed by all of them? Our 29th year is going to be epic. Partying it up, making history and helping save lives."
The Barnstable Brown Kentucky Derby Eve Gala, internationally recognized as the "premier" Kentucky Derby gala and counted among the "Ten Best Parties in the World" by Condé Nast, announced on Friday its celebrity lineup. The star studded bash is held at the Louisville, Kentucky home of Patricia Barnstable Brown, who co-hosts the event with her twin sister Priscilla Barnstable.