Simplified Software Development and The Jha Group to Become Simplified Nutrition Online Solutions
Stephen Bennett and Satish Jha collaborate to form new company entitled Simplified Nutrition Online Solutions based out of Boston, MA with satellite office in Tampa Bay, FL.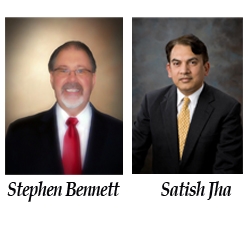 Boston, MA, May 03, 2017 --(
PR.com
)-- Simplified Software Development and The Jha Group announced today that they have jointly formed a new entity named Simplified Nutrition Online Solutions (SNO Solutions).
Since 2006, Simplified Software Development has been the leader in the "Software and Software-as-a-Service" marketplace for dietary management and nutrition. Its primary focus has been the Dietary Management Market where it has developed and currently supports 19 solutions for the healthcare, educational institution, nutrition labeling, corporate, and corrections marketplaces.
The Jha Group's expertise lies in providing state-of-the-art support to its partners in capturing new business opportunities and nurturing business strategy, planning, process re-engineering, management and measurement. Its founder, Satish Jha, is a leader bringing formative improvements to the information technology, pharmaceutical, pharmacy benefit management, healthcare delivery, global banking, and wealth management marketplaces.
The collaboration has come about in order to achieve tactical expansion of its Healthcare Delivery Solutions in its targeted markets. The benefit to its clients will include a higher level of service partnership with customers as it provides interoperable cost-effective, flexible dietary solutions.
Simplified Software Development's leading solution is Simplified Nutrition Online (
www.snosolutions.net
). According to founder, Stephen Bennett, "We have good foundations, and in working with The Jha Group, our development is ready to be released in an exponential way." Likewise Mr. Jha, new Chairman of the Board, adds, "Managing our diets nutritionally is a key to our health. With Simplified Nutrition Online, Stephen Bennett created a Solution that is an industry best. With SNO Solutions, hospitals, long term care facilities and everyone interested in managing health can gain control of their health. America needs it now and SNO Solutions is ready to support!"
The new company, SNO Solutions, was officially opened on April 16th, 2017 headquartered out of Boston, MA with its IT, development, and marketing operations in Tampa Bay, FL.
Contact Information:
Simplified Nutrition Online Solutions
Vonnie Coleman, Director of Marketing and Communications
vonnie.coleman@SNOdm.com
202-765-6495
Contact
Vonnie Coleman Design
Vonnie Coleman
202-765-6495
www.snosolutions.net

Contact