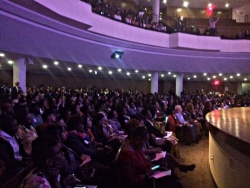 Manhattan, NY, May 04, 2017 --(
PR.com
)-- Frader Barber CEO of World Financial Group and Ogo Ekweozor Holley Founder of OGONEWYORK hosted the 6th year Annual Women & Wealth.
The overall theme of the event was Fashion & Finance. Over 750 men and women enjoyed an evening of cocktails, live music, networking, education about money, entrepreneurship and a fashion show.
The evening keynote speaker was Fradel Barber CEO and visionary of world financial group. She highlighted the need for women to understand ways to manage their finances as they play a more critical role in society than ever before. She shared unspoken secrets of how to build and protect their wealth.
Other featured speakers included Senior Marketing Directors of World Financial Grouo Esther Charles, Kimberly Gilgeours and Zainab Mukhtar who shared passionate stories about their journey as female entrepreneurs.
The evening proceeded with Ogo Ekweozor-Holley, founder of OGONEWYORK, who spoke on her journey to success as a mother of 3 children under 2 years old and ended with a beautiful display of the OGONEWYORK Summer 17 Collection.
About Fradel Barber
As a visionary entrepreneur in the financial services industry, Fradel is passionate about financial education for all types of people, regardless of their social status or income; entrepreneurship, personal and business development and increasing the number of successful women in the business world and leadership roles. As CEO of World Financial Group she has spearheaded the entrepreneurial expansion throughout the East and West coast, developing and leading successful entrepreneurs in the financial services industry. With her passion for success and will to overcome all obstacles, Ms. Barber has expanded her operation to over 15 offices and leads a team of over 500 licensed financial professionals.
About Ogo Ekweozor-Holley
Ogo's track record building and running successful businesses since the age of 20 despite graduating college with a law degree, has inspired many worldwide and helped countless audiences break through to discover their own untapped, infinite potential.
As Founder and Chief Executive Officer of OGONEWYORK Inc. — a made in NYC fashion label built on a mission to celebrate true beauty in women and transform the lives of women and children globally—Ogo has, to date, positively impacted the lives of thousands of women and girls, especially in the fight to end sex trafficking, restore hope to abused women and educate young girls.
Among other things, Ogo is also a Management Consultant and the founder of NYC boutique consulting firm, Sales Driven Solutions Inc. With extensive expertise in building large fundraising teams and sales forces globally, she has developed and implemented systems that have acquired over a million new donors, and customers for businesses and non profits worldwide.
Ogo resides in Brooklyn with her husband and three kids.