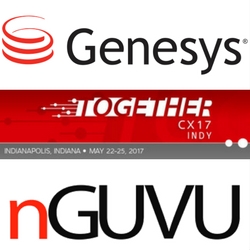 Indianapolis, IN, May 08, 2017 --(
PR.com
)-- nGUVU, innovative providers of employee engagement in the contact center industry, will demonstrate its latest Integrated Workspace at CX17, the industry's premier customer experience event. Taking place May 22-25 in Indianapolis and June 7-9 in Brussels, CX17 is organized by Genesys, the global leader in omnichannel customer experience and contact center solutions. CX17 combines the best of G-Force and Interactions in its debut year since Genesys completed its late 2016 acquisition of Interactive Intelligence.
As an AppFoundry sponsor, nGUVU will be showcasing its nGAGEMENT solution at the Indianapolis event, with a dedicated demo station and an onsite contact center expert to discuss workforce management and optimization with our partners and customers. nGUVU will show how its solution combines with the Genesys Customer Experience Platform to enable organizations to discover, research and connect with a broad range of customer experience applications, integrations and services that address their unique customer needs.
"nGUVU is proud to be a Genesys partner, and have always found these events to be vital to gathering feedback, both from customers and industry leaders, which we strive to incorporate into our overall strategic roadmap and feature development process," said Pierre Donaldson, chairman and chief executive officer at nGUVU Technologies. "CX17 will provide the perfect forum for our ongoing conversation with contact center experts within the various industries we serve. This open dialogue is crucial for nGUVU to continue meeting customer expectations."
"We have a track record of success working with existing Genesys customers," continued Donaldson. "We
recently published a case study with Lasik MD
, North America's leading provider of laser vision correction, that demonstrates the added value our employee engagement solution offers when it's integrated with the Genesys Customer Experience Platform."
"We are proud to have nGUVU as a key participant at CX17 – contributing to an exciting agenda focused on leading transformation in the customer experience industry," said Jim Kraeutler, vice president of the Innovation Group at Genesys. "Our AppFoundry partners like nGUVU are leveraging the Genesys Customer Experience Platform in creative ways to help organizations better connect employee and customer conversations on any channel, every day."
CX17 is the annual conference that gathers together the strongest ecosystem of solutions, customers, partners and technology pushing the boundaries and future of CX to provide the human touch in a digital world. Attendees will explore topics such as digital transformation, cloud customer experiences, customer journey management, hyper-personalization, predictive analytics, virtual reality and more.
Join the conversation on social media at #CX17INDY and #CX17BRUSSELS.