Francois Fressinier - Exclusive Exhibition at Martin Lawrence Gallery Dallas
Martin Lawrence Gallery Dallas is proud to welcome Francois Fressinier. Join them for an exclusive exhibition of exciting new paintings, combining collage, impasto, abstraction and figurative painting, Fressinier creates a unique textural style uniting classical and contemporary elements. The art reception will be on Thursday, May 18, 2017, from 6-8PM at The Galleria, 13350 Dallas Parkway, Level 1, Dallas, Texas 75240. The art is on exhibit until June 2, 2017.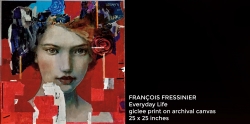 Dallas, TX, May 09, 2017 --(
PR.com
)-- Francois Fressinier was born in Cognac, France in 1968 to scholarly portrait photographer parents with an affinity with aesthethetics, it was fitting that modern figurative artist, Francois Fressinier, would develop a bold, unique style.
His father's admiration for the works of the old masters and his exposure to some of the world's most historic places, along with France's Gallo-Roman ruins and gothic churches inclined Francois to explore and create figurative, symbolic artwork. In addition, his education at the E'cole Brassart in Tours afforded hime the opportunity to study the drawings and paintings of old and new masters.
He cites inspiration from artists like Rembrandt for showing us the soul of his sitters, Van Dyke for his elegance, Bonnard's palette, Fuchs for the fantastic world he invented; all of which influence his style today.
He has stated, "Art is something you cultivate; it is alive! My joy is to listen to the piece and to have a discussion with it. Each one has its own personality."
Fressinier's process is painting involves a bit of sketching, however; he takes greater pleasure in being alone in his studio, letting his paintings speak to him and watching them appear progressively and without force. He continues to be moved by the work of these artists, frequently visiting museums, galleries and art libraries to expand his imagination. Fressinier's paintings are exhibited and collected internationally.
Since 1975 Martin Lawrence Galleries Dallas and their 8 other locations in North America have assisted collectors in making their art acquisitions an exciting and rewarding experience. They specialize in original paintings, sculptures and limited editions by Warhol, Haring, Murakami, Chagall, Picasso and many others.
Follow Martin Lawrence Galleries on Twitter (@TweetMlG), Facebook (@martinlawrencegaleries) and Instagram (@martinlawrencegalleries) #Francois Fresssinier
Contact Information:
Martin Lawrence Galleries Dallas
Katia Graytok
203-989-2073
http;//dallas@martinlawrence.com
972-546-2988
Contact
Martin Lawrence Galleries
Katia Graytok
203 989 2073
wwww.martinlawrence.com

Contact