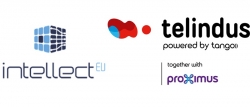 New York, NY, May 18, 2017 --(
PR.com
)--
Telindus
developed the SmartMatch Solution in collaboration with
IntellectEU
based on Hyperledger Fabric, an open source blockchain framework and one of the five Hyperledger projects hosted by The Linux Foundation. Frank ROESSIG, Head of Digital Finance Solutions at Telindus and Dirk AVAU, CEO of IntellectEU will make a live demo of the SmartMatch Solution at the
Hyperledger Mini Summit
during Consensus 2017, the annual blockchain technology summit organized by Coindesk in New York on May 22nd -24th 2017.
Dedicated to the Financial sector, SmartMatch Solution renders transactions more effective, faster & cheaper. It does also identify and resolve outstanding transactions in a collaborative, efficient plus auditable manner. This solution allows multiple parties to identify and resolve items that have been posted to a chain but do not match. It is based on Smart Contracts that will solve unmatched items based on predefined rules in a swift, transparent, traceable, and partly automated manner.
There are many use cases for this tool in the Financial Sector, including Asset Management, Fund Administration, Depositary, Private Banking / Wealth Management, Lending, Payments, etc.
The benefits to the Financial sector encompass improved process efficiency, superior execution quality as well as enhanced user experiences.
For more information about Consensus 2017 event:
http://www.coindesk.com/events/consensus-2017/
For more information about SmartMatch Solution:
Frank Roessig, Head of Digital Finance Solutions, Frank.roessig@telindus.lu
Hanna Zubko, IntellectEU, Founder, VP Business Development
About Telindus
Telindus powered by Tango is one of the leaders in converged ICT and telecom services in Luxembourg and provides global solutions to all businesses and public administrations. Its areas of expertise include fixed and mobile telecommunications, ICT infrastructures, cloud and security. Telindus has become "Telindus powered by Tango" to offer increasingly innovative solutions to its customers and enhance their daily relations, while simplifying them. In support of its customers to assist them in their digital transformation at their own pace, Telindus deploys a broad range of innovative and managed services that meet the specific needs of each of them for a sustainable development of their activities. Telindus generates value-creating solutions and pays particular attention to their return on investment. The Financial Solutions team designs Digital Solutions for the Financial Sector that improve productivity and quality while ensuring compliance with regulatory frameworks and also enhancing the user experience.
About IntellectEU
IntellectEU is an international technology company with 10+ years of integration and development experience. With core expertise in financial integration and development on top of Distributed Ledger Technology, IntellectEU has built Blockchain-based solutions for insurance claim management, KYC/identity management, document management and authentication, supply chain transparency and provenance tracking, smart correspondent banking and central bank use cases. IntellectEU team is located across the USA, Belgium, Portugal, Mexico and Ukraine, and successfully delivered more than 200 integration projects in more than 20 countries worldwide. In the beginning of 2016, IntellectEU has joined industry leaders as a founding member of Linux Foundation's Hyperledger Project to advance Blockchain Technology. Aside from Hyperledger, IntellectEU team has built expertise with Ethereum, Chain Core and R3's Corda.