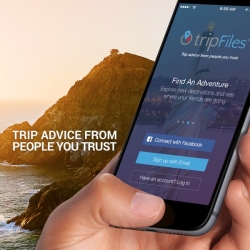 Coral Gables, FL, May 23, 2017 --(
PR.com
)-- Reviews and travel advice are more powerful when they come from someone you trust. It was with this simple truth, that tripFiles was created. With tripFiles, travelers can provide key insights directly to their friends and family. tripFiles allows travel parties to share photo and video assets automatically so there will be no more lost photos or emailing/ texting assets back and forth.
Travelers can use tripFiles:
* To share photos with everyone traveling in their group.
* To share their trip real time with those that are not on their adventure and then post broadly to Facebook and other social platforms when you are safely back home.
* To catalogue their trips and choose to enjoy privately or share with the world. Either way, their trips are at their fingertips.
* To plan their trips based on what their friends and family would recommend.
tripFiles is unique because not only does it offer free video and photo storage, it helps you plan and catalogue your vacation without ads and without trying to push you into a booking service like most travel apps do today. With tripFiles you rely on your own network of friends. A free private social network for travel where you can store all your video's and photos for no charge, safely share your trips, and never have to email/text photos around to the people you are traveling with.
tripFiles social network for those who love to travel. tripFiles is available to download free of charge including free photo and video storage in the iOS app store at
tripFiles
or you can learn more at
www.tripfiles.com