Kingspan Light + AIr Launches the QUASAR PN Polycarbonate Prismatic Nanosphere Skylight
Quasar PN Polycarbonate Prismatic Skylights revolutionize the high performance daylighting industry by providing the highest visible transmission with 100% diffusion in the industry with all the high impact and fire resistance benefits of polycarbonate.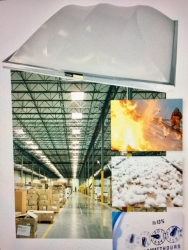 Santa Ana, CA, May 24, 2017 --(
PR.com
)-- Kingspan Light + Air (the new name for Bristolite Daylighting Systems) has launched the Quasar PN high performance skylight utilizing the latest advancements in polycarbonate plastic coupled with prismatic glazing technology. Through the use of nanospheres embeded in extruded polycarbonate, coupled with prismatic polycarbonate glazing, Kingspan Light + Air has been able to design the highest visible light transmittance (VT) skylight with 100% diffusion available in the industry. The double glazed skylight utilizing the light capturing Triarch Dome shape has been tested under ASTM D1003 to provide 72% VT with 100% haze which provides better lighting performance even when compared to the competition's acrylic prismatic models.
When it comes to energy efficiency, its all about the light. The U.S. Department of Energy has documented that there isn't a more cost effective solar energy saving option than utilizing high performance skylights with active daylighting controls in industrial/commercial building applications. Research has shown that maximizing visible light transmission while providing greater than 90% diffusion, produces the most hours annually that a skylight can replace the need for electric lighting at the optimum skylight to floor ratio, determined to be 5% or less. Polycarbonate has long been know as a top performer when it comes to impact and fire resistance. The Quasar PN Polycarbonate Prismatic Nanosphere is CC1, Class A fire rated as well as Factory Mutual rated against Class 4, 2" hail and comes with a 10 year hail proof warranty. By tilizing Quasar PN Polycarbonate Prismatic Nanosphere skylights for your daylighting measures, you don't have to give up building protection to get energy performance.
Kingspan Light + Air is the newest division of Kingspan Group from Kingscourt, Ireland, a global provider of energy efficient building systems and known as the worlds largest manufacturer of insulated metal building panels. Kingspan Light + Air North America is the new name for Bristolite Daylighting Systems with over 40 years of producing the broadest line of skylight solutions. Kingspan Light + Air Globally is a 2000 employee, €200 million business focused on energy solutions in daylighting, LED, natural ventilation, and smoke and heat evacuation. For more information, please contact our North American Headquarters located in Santa Ana, California toll free at (800) 854-8618 or visit their website at
www.kingspanlightandair.us
.
Contact
Kingspan Light + Air North America
Grant Grable
800-854-8618
www.kingspanlightandair.us
Grant Grable is the Commercial Director of Kingspan Light + Air North America

Contact