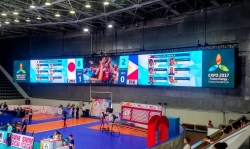 Ust-Kamenogorsk, Kazakhstan, May 30, 2017 --(
PR.com
)-- The Grand Finale of the prestigious 2017 Woman's Asian Club Volleyball Championship will take place today at Boris Alexandrov Sports Palace in Ust-Kamenogorsk, Kazakhstan, currently the most advanced volleyball venue on the planet, now equipped with
Colosseo technology
, leader of the venue market. Teams from Kazakhstan, Japan, Philippines and Iran will be battling it out for the title of the best volleyball club in Asia, and Colosseo is proud that it has installed its leading technology at the championship venue.
The LED displays include a uniquely designed and globally the largest indoor HD LED screen which is over 33 meters wide, with 8 mm line spacing and 4K surpassing resolution to provide fans and visitors with an outstanding visual experience. The arena also received LED perimeter boards with the same 8 mm line spacing.
The Volleyball Challenge System is a video solution for referees judgment, allowing teams to request a review of actions which they suspect are faults not identified and duly signalled by the referees or line judges. The challenge system uses 16 high frame rate cameras with up to 200 fps for maximum judgement precision. The whole system is specially designed for volleyball games and is also fully integrated and connected with the Colosseo Timekeeping, scoring and statistical system.
The impressive final ceremony involved permanently installed 3D mapping/projection on the court with the latest Colosseo Projectors and content control with 4K surpassing resolution.
The content for all LED displays is under the direct control of the Colosseo Single Media Platform, the leading content control and distribution solution for sports venues, used by world know venues like Verizon Center, Paris Bercy/Accor Hotels Arena, VTB Ice Palace Moscow or Zenit Arena in St. Petersburg for the upcoming 2018 FIFA World Cup.
Boris Alexandrov Sports Palace has become the most advanced indoor venue in the wide Asia region and has set a new standard for LED displays, content control and fan comfort, satisfaction and infotainment.
ColosseoEAS, Inc. is the producer of the first completely integrated software platform for digital content creation and distribution for venues. With custom designed LED display systems, timekeeping/scoring systems, mobile applications and interactive IPTV, Colosseo has developed the most complete turnkey solution for sports venues, convention centers, shopping malls and transportation available on the market today. With over 60 installations in North America, Europe and Asia in the past 7 years, Colosseo is taking multimedia management, interactivity, entertainment and infotainment to the next level.