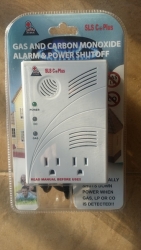 Anchorage, AK, June 03, 2017 --(
PR.com
)-- Almost every day we hear about another one - a gas leak in a home, building or other structure causes an explosion that levels the building and often kills or injures men, women and children. Almost all of us know about a home, building or rv explosion caused by leaking Natural Gas, Propane, or a CO gas fatality. Sometimes people are killed, sometimes it's property damage. Although almost all homes have alarms for gas this still goes on - nearly daily. Introducing Sierra Life and Safety Company which today introduces a technology to greatly reduce this problem. Sierra Life and Safety Company combines a gas detector and alarm with a valve to shut off the gas source automatically upon detection of leaking gas. By shutting off the gas source - Sierra Life and Safety's new revolutionary product will save lives as people sleep and save buildings when no one is home to hear the alarm. This patented technology is now available in the marketplace from Sierra Life and Safety Company.
According to Sierra Life and Safety President and CEO Len Kain, "The technology is now available to take a major step beyond the simple gas alarm. We can automatically shut off the source of the gas - saving the home or building. Our patented technology is a combination of a detector, alarm and valve to shut off the source of the problem and not just warn you about it. Someday every home and building should have one of the these products."
The companies first product is the SLS CO Plus which is available now. It sells for $299.00. More information on the company and the companies technology and patent is available on the companies website http://www.sierralifeandsafety.com.