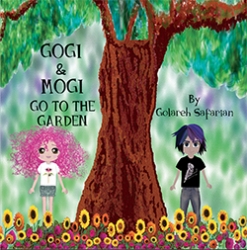 Pasadena, CA, June 03, 2017 --(
PR.com
)-- Entrepreneur, writer, and artist Golareh Safarian has taken her long infatuation with color and design to the next level with her new children's book, "Gogi & Mogi Go To The Garden."
Independently published through Create Space and available on Amazon, the book incorporates Golareh's whimsical, fun, and colorful characters developed through her design company, Gogimogi, while introducing Gogi and Mogi, two charming, curious and adventure-seeking characters.
Similar to her Gogimogi designs, "Gogi & Mogi Go To The Garden" offers a whole-brained approach at early development by engaging both the dreamy artist and the curious scientist in every child. The story follows Gogi and Mogi as they search for costume ideas in a beautiful garden and learn about its colorful creatures.
About the author:
Golareh's passion for storytelling dates back to when she was three years old in Iran. She and her father would sit and record improvised stories on an old tape-recorder, often with Golareh calling out whenever a story element didn't fit her ideal plotline. This desire to tell stories has been with her ever since.
Born in Tehran in 1974, Golareh spent her elementary school years in Madrid, Spain. In 1987 she moved with her family to Toronto, Canada, where she proceeded to obtain post-secondary degrees in Criminology and Political Science from the University of Toronto and a Journalism degree with a focus on Broadcasting from Ryerson Polytechnic University.
She started her professional career as a freelance reporter, working the crime and political beats at a number of Ontario newspapers. Soon after graduating from Ryerson, Golareh joined the Colllingwood Station of Rogers Television where she produced more than 70 hours of programming.
In 2000 she moved to California where she obtained her Master's in Mass Communications from San Jose State University. While in grad school, she also worked as a freelance storyteller for Iranian.com and was a contributor to San Jose State's Access Magazine. Her article, Ancient Faith, Modern War, earned her the Gold Circle Award from the Columbia Scholastic Press Association in 2003.
In 2006, Golareh joined the Special Operations team of Fox Broadcasting Company as their Director of Content Production. In 2011, she was promoted to Vice President of Production, Special Operations. While at Fox, she produced a large volume of promo shoots and helped launch the marketing campaigns for many high-profile Fox shows.
In March of 2016 Golareh left Fox Broadcasting to launch her media and entertainment company MindTripz Inc. In January of 2017, she launched her second company, Gogimogi, a design house committed to the study of color and humor and inspired by nature.
In addition to her writing, entertainment, and entrepreneurial experience, Golareh is a multi-disciplined artist with 15 years of experience in fine art, photography and digital art. She describes her work as an homage to color: "I try to rediscover shapes and shades with childlike enthusiasm and wonder. The extent to which I succeed is ultimately a reflection of my own inner balance during the creative process."