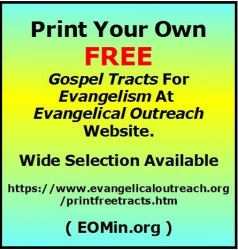 Washington, PA, June 23, 2017 --(
PR.com
)-- Evangelical Outreach announces that it is providing easy to print free gospel tracts and a free ministry packet. In doing so, Brother Dan Corner of Evangelical Outreach is making this information available to assist Christians and provides references from the New Testament: "
Soul winning
is magnified throughout the New Testament, especially in the book of Acts (8:4) and specifically with Philip's example (Acts 8:5-13; 8:26-40), but even more with Paul. While the Lord Jesus shed his precious blood on the cross for our sins (1 Pet. 1:18,19; Col. 1:20-23; Rev. 1:5; etc.), the followers of the Lord Jesus have still been sent forth to spread the gospel (Mark 16:15,16; Mt. 28:18-20) so others can hear, believe and be saved (Rom. 10:13-15). It is always wise to put God's word into practice (Mt. 7:24-27), including getting involved in reaching the lost by spreading the
plan of salvation
as shown by command and example." To help, Evangelical Outreach (EOMin.org) has a very important page to print out
free gospel tracts
which can easily enable
Christians
to print out their own gospel tracts from their home computer.
Evangelical Outreach offers many free teachings throughout its website on relevant topics for our day ranging from Roman Catholicism to Jehovah's Witnesses to Mormonism to eternal security proponents to the non-religious spiritually lost person and more. The most recent free print out is on Real Revival.
Hundreds of people have contacted Evangelical Outreach over the years with wonderful testimonies about their Christian materials. Evangelical Outreach's printable
gospel tracts
are included in that and have been a valuable asset in helping the soul winning
evangelist
with sharing the gospel.
Evangelical Outreach also offers a free ministry packet for anyone in the USA who wants a sample of what we consider to be very effective and biblically-sound
Christian tracts
for their own personal evangelism explosion. Note: That offer is especially for all who are preaching the gospel: open air preachers, street preachers, missionaries, evangelists, pastors, etc. All are invited to take full advantage of this offer. Moreover, you may also purchase gospel tracts, with an online bulk order, from Evangelical Outreach for use with Christian evangelism. (These gospel tracts are free from all forms of Calvinism and Catholicism.)
Personal evangelism has been made much easier and more productive by using gospel tracts, based on our own experiences. How to share the gospel is facilitated with
bible tracts
since they don't forget the biblical message and can be examined numerous times and under different convenient circumstances for the recipients.
According to Brother Dan Corner from Evangelical Outreach: "Bible-defined Christians have been entrusted with the
gospel
to spread and defend it and that important trust will be brought up at the Judgment (Mt. 25:14-30). Ask yourself this related question: If all Christians were just as zealous and faithful to win the lost to the Lord Jesus Christ as you are, would more or less people go to the fiery lake of burning sulfur? God, from his throne, said: 'But the cowardly, the unbelieving, the vile, the murderers, the sexually immoral, those who practice magic arts, the idolaters and all liars – their place will be in the fiery lake of burning sulfur. This is the second death.' (Rev 21:8) Salvation is as important as eternity is long."
evangelicalholiness@gmail.com