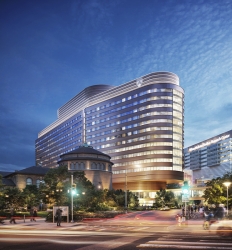 Dallas, TX, June 09, 2017 --(
PR.com
)-- The University of Pennsylvania announced the groundbreaking for the construction of a new $1.5 billion hospital facility, called the Pavilion, on Penn Medicine's campus, which will be planned, designed, constructed, and equipped by PennFIRST, an Integrated Project Delivery (IPD) team. As a central member of the PennFIRST team, Covalus is providing comprehensive services including medical equipment planning, procurement, and implementation; transition and activation planning; and oversight for the technology and FF&E components.
Said Kate Newcomb-DeSanto, MSN, RN, MSW, Clinical Liaison for PennFIRST, "The Covalus staff have been vital in guiding the PennFIRST Team in developing early Project Target Cost estimates for medical equipment, technology, and FF&E, in addition to leveraging their national experience with complex projects. Covalus has effectively guided our organization toward sound technological investments and platforms that allow for future-proofing our new facility. Their processes and tools enhance collaborative efforts project-wide, and their ability to react to change efficiently and quickly is a significant value add."
The new Pavilion will house 500 all-private patient rooms and 47 operating rooms in a 1.5 million square foot, 17-story facility on the former site of Penn Tower. It will house inpatient care for cancer, heart and vascular medicine and surgery, neurology and neurosurgery, as well as a new emergency department.
The new Pavilion will be linked to its neighbors on the Penn campus: the Hospital of the University of Pennsylvania and the Perelman Center for Advanced Medicine, as well as the nearby train station.
For more detail around the planning and design for the New Pavilion, please watch the following video from Penn Medicine:
youtu.be/Myd1-FV4uQY
About Us:
Covalus combines strategic planning and implementation services for institutional and private building owners. Since 1998, Covalus has been a market leader in healthcare equipment and transition planning services and now provides a full range of program management, equipment and transition planning, and technology services to offer clients value at any stage in the project lifecycle. We've completed more than 300 projects in 34 states, as well as Canada, Japan, Qatar, Korea, and the UAE, with more than $2 billion in equipment procured. We support our clients coast-to-coast from offices in Dallas, Nashville, Houston, Philadelphia, and Denver.
For more information, visit www.covalus.com.