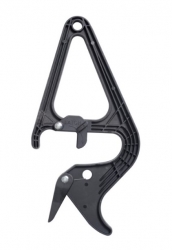 Louisville, KY, June 16, 2017 --(
PR.com
)-- Louisville Ladder is announcing the Maxlock™, their new patent pending rung lock design for D-rung extension ladders. Maxlock™ is the strongest, toughest, lightest rung lock ever made. Maxlock™ is custom engineered from a patented, advanced molecular polymer designed in Germany. Innovation driven with the user in mind; it is built to withstand the daily pounding at the jobsite. Maxlock™ has aced ANSI testing by two or three times its requirements.
Maxlock™ was tested over the course of a year in:
· The field with some of the roughest and toughest contractors in the US
· The extreme heat of Mexico at 122°F
· The chilly winters in Canada at -40°F
And went through:
· 1,000 hours of salt testing to determine corrosion resistance
· 2,000 hours of UV testing
Each time Maxlock™ proved it can go further than the Industry standard and the competition.
Maxlock™ is equipped with Quicklatch™, a locking mechanism, that provides a simple, intuitive method of securing the fly and base sections of your ladder when extended. QuickLatch™ was designed, by Louisville, to be locked and unlocked using one finger only.
Type IAA, IA, I, and II D-rung extension ladders are currently being manufactured with Maxlock™, and by Fall 2017 Type III extension ladders will also have it available. By 2018, all Louisville Ladder D-Rung extension ladders will be manufactured with Maxlock™.
Maxlock™ sets the new bar for rung locks and ladders, don't settle for less. Demand Maxlock™. Exclusively from Louisville Ladder.
For more information about Maxlock™ visit Louisvilleladder.com
Contact: Alexandra Griffin, Marketing Coordinator,
alex.griffin@louisvillelader.com, 502-635-9335