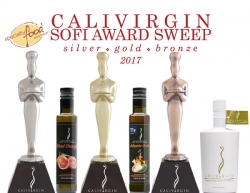 New York, NY, June 15, 2017 --(
PR.com
)-- The Specialty Food Association has been presenting SOFI awards since 1972, celebrating culinary excellence and creativity worldwide through recognizing the outstanding work of its members. The 2017 Winners include a wide range of great foods, from mouthwatering sauces to delectable desserts to savory snacks. Winners were chosen from over 3,000 entries in a blind tasting by a national panel of culinary experts.
"The 2017 SOFI award winners ar the perfect representation of everything that the specialty food industry stands for," said Phil Kafarakis, President of the Specialty Food Association. Kafarakis was joined by food industry icon Sara Moulton to announce this year's winners from One World Observatory, atop One World Trade Center. "They represent the devotion to excellence, great tastes, and innovation that fuels our industry. Today's consumers are driving our growth across every channel: retail, e-commerce, food service. whereever you find great food, chances are you're tasting a specialty food product."
Over 12 days in March 2017, a diverse panel of expert judges participated in a series of blind tastings to slelect the SOFI winners. In all, 62 judges from across the food industry spectrum, including chefs, culinary instructors, recipe developers, food journalists, and specialty food buyers participated in the selection process.
The 2017 SOFI award winners will be celebrated at the Specialty Food Association's Summer Fancy Food Show at the Javits Center in New York, June 25-27. The Show is the largest marketplace for specialty food and beverages in North America. It will feature displays of all 2017 SOFI award winners.
"We are beyond thrilled for our products to do so well at the SOFI awards. 2017 has been a crazy year for us as we have collected 104 awards in US and international olive oil competitions thus far. There is some fierce competition from many countries in the olive oil category so we are honored that our oils stood our in the blind tastings," said Mike Coldani, Chief Olive Oil maker for Coldani Olive Ranch.
Calivirign olive oils, including their three 2017 SOFI winners, will be showcased at the Summer Fancy Food Show June 25-27 at their booth 5117.
Calivirgin olive oils are grown and produced by Coldani Olive Ranch in Lodi California. Coldani Olive Ranch has been producing extra virgin olive oil for retail, foodservice and private label since 2007.