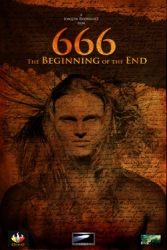 Los Angeles, CA, February 12, 2008 --(
PR.com
)-- Stardust Films and Jaguar Pictures in association with Ome-G Productions recently wrapped on principal photography last month on their feature film entitled "666 The Beginning of the End."
The film was executive produced by Gustavo Riojas Santana and produced by Christopher Chabot and Kerem Gama. The film's cast includes Mario Ernesto Sanchez (Miami Vice, 8MM, Proof of Life), Steve Wilcox (Payback, American Me), Emily Dean, Federico Dordei, Ozborne Williams and Gabriela Sosa.
"666 The Beginning of the End" was written & directed by Joaquin Rodriguez, the next visionary Mexican filmmaker making his way in Hollywood with his highly controversial yet entertaining projects. This SAG production took place on location entirely in Cuernavaca, Mexico during January 2008 utilizing state-of-the-art high definition equipment. An extraordinary team of professionals were an integral part of this production led by Juan Castillero (Director of Photography), Gustavo Riojas Jr., one of the industry's most reputable DIT's, Wenceslao Ruiz (Art Director) and Juan Carlos Ertze (Sound Engineer) to name of few. The producers have entrusted the post production of the film to Ome-G, a Smoke® post-production facility located in Mexico City that has rapidly grown in recent years thanks to their talent and quality which is comparable to any of the top post-production studios in Hollywood.
"666 The Beginning of the End" is one of those films that will cause great controversy due to its religious connotations that show a face of the Catholic Church normally overseen. The story takes Father Michele Stivoli, an Italian catholic priest on a journey of confusion, pain and terror which leads him on a collision course with the Antichrist himself. His faith is tested and his soul protected by a mysterious 9 year old girl that could be the incarnation of Jesus Christ. With dialogues in English, Italian and Sanskrit, the movie presents a unique and highly controversial vision of the Book of Revelations and the role of the Catholic Church in the fulfillment of the prophecies towards the end of times.
The producers are in current talks with distributors for a worldwide release. "We as filmmakers have a social responsibility to create films that are brave and intelligent and when someone has the courage to present a controversial vision, this vision should be exposed to the public." said Chabot.
Next stop… LA Screening/Press Conference to be announced in July 2008 and Mexico Screening/Press Conference to be announced in August 2008. To view the film's trailer or promotional photos, please visit www.jaguarpict.com or http://www.fiannpaul.com/now1/
###