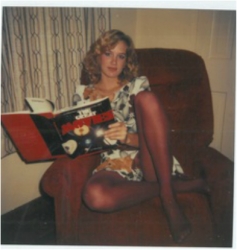 Detroit, MI, June 22, 2017 --(
PR.com
)-- Helen Marine of Frankfort, Kentucky purrs that she "falls in love every morning and falls in love every night with Stellar Romance stories." Jacquie Vernon of Austin, Texas starts and finishes her day the same way.
Without the benefit of social networking or Internet advertising, the site Stellar Romance introduced in April, 2016 and its sister site, Saints and Scholars, have generated 210,000 story reads. Most of the short-short stories can be read in less than a minute for readers on fast tracks or rapid commutes and each tale is accompanied by a picture, often with real-life models portraying the lead roles. Real-life actresses from the big screen, cable and soap opera stardom have enthusiastically joined in the fun and embraced the sites with loving arms and throbbing hearts.
Regular readers hail from as far-ranging locales as Dublin, Ireland, Sydney, Australia, even Moscow, Russia. From the States, Natalia Tallen of Salt Lake City glows: "I have only been reading longer romance novels, but yet I find myself falling in love with this flash fiction. These short love stories are easy to read, easy to follow, but not easy to put down." Shannon Hutchens of Gatlinburg, Tennessee joins the happy chorus: "Today I read 'The Girl In The Smoking Car' and 'The Street Named Truth' from links sent by a dear friend. I know I will be coming back for more!"
American-based Stellar Scholars, a non-profit collective of professionals including writers, journalists, creative writing teachers and librarians, showcase the love stories for free gift-linking by readers to loved ones and even carry a Stellar Romance line of Stellar Novellas anthologies with titles like "Stellar By Starlight" and "I Adore You But I Cannot Marry You" by the Stellar Scholars Roundtable of Writers. Other novella-length works include "On Briarwood Roof" whose cover poses the premise "One girl. Two guys. Lopsided math? Or a fine romance?"
In an ever-increasing trend, community reading clubs have started to read and discuss the stories within their groups at monthly meetings. The Blue Hat Coffee/Gallery in historic Coldwater, Michigan has even introduced open-reading nights of Stellar Romance stories, with prizes donated by Stellar Scholars for the best performances in the romantic roles.
Jennifer Watters, Editorial Director of Stellar Novellas, explains the phenomenon of Stellar Romance with a simple question: "What could be more entrancing than a love story well told to a knowing audience of romance readers?"
Ashley Sword, Creative Director of Stellar Scholars, who "stars" in the popular "The Girl In The Smoking Car" feature story, corroborates Jennifer's enthusiastic appraisal: "The theme of man and woman, woman and man, is universal. The variations on the theme from meeting to melting to mating are boundless."
Indeed, nothing could be finer. Except maybe a piping cup of coffee with your romantic dalliance.
For additional information about the sites and this press release, contact ashley@asherprgroup.com.
www.StellarRomance.com
www.SaintsandScholars.org
www.StellarScholars.net
www.StellarScholars.com