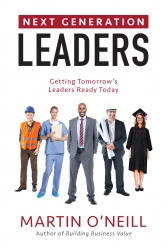 Annapolis, MD, June 27, 2017 --(
PR.com
)-- Today, Third Bridge Press is pleased to announce "Next Generation Leaders" has been named a winner in the 19th annual Foreword INDIES Book of the Year Awards.
Foreword Reviews, a media company focusing on independently published books, announced the winners of its INDIES Book of the Year Awards today during the American Library Association's Annual Conference in Chicago. The awards recognize the best books published in 2016 from small, indie, and university presses, as well as self-published authors. You can view all of the winners at:
https://awards.forewordreviews.com/winners/2016/
"Awarding the INDIES is always the highlight of our year, when we get to honor talented authors and great books that are ordinarily overlooked by mainstream publications," said Howard Lovy, Foreword Reviews' executive editor. "While they don't have major PR machine or corporate budgets, these indie publishers are passionate about what they do, take chances, and produce a wide range of thought-provoking books."
Martin O'Neill, author of the award-winning book said, "We are very pleased to be recognized as a Bronze winner in the very competitive Business & Economics category. Reaching the untapped talent of our next generation of business leaders is a passion of mine and I'm very happy this book is having an impact."
Over 2,000 entries were submitted in 66 categories, with Foreword's editors choosing the finalists, and a panel of over 150 librarians and booksellers acting as judges to pick the winners.
About Foreword: Founded in 1998, Foreword Reviews is the only independent media company completely devoted to independent publishing. Featuring a Folio:Award-winning bi-monthly print review journal, and online publication, Foreword exclusively covers small, university, and independent (non "Big 5") publishers, the books they publish, and the creators they work with. Foreword is based in Traverse City, Michigan, USA, and has employees and writers all over the world.