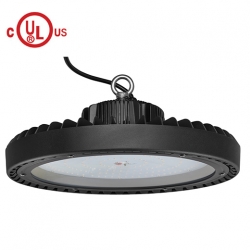 Palm Beach Gardens, FL, June 28, 2017 --(
PR.com
)-- Collier County's Hazardous Materials Collection Center has replaced all facility lighting with LED technology. Besides improving visibility and security, the new lighting cuts energy consumption for the facility by up to 78%.
Officials of Collier County's public utility division first became interested in the idea of retrofitting with LED lights when they realized the benefits of overall savings available. After thoroughly vetting LED lighting suppliers and manufacturers, public utility division officials chose Florida-based LED Corporations to help complete the task. "There were several bidders," say sources, "but the decision was based on quality as well as pricing. "Working with William Ofshlag, LED Corporations Vice President of sales, was a pleasure."
County officials chose LED Corporations 150w
LED Bay lighting
to replace 400w metal halide bay lights. These disk-style fixtures deliver 130-lumens per watt, equivalent to a 600W metal halide fixture. The sleek, contemporary design features a cast aluminum housing that serves as a heat sink to draw heat away from the fixture's diodes.
Another significant enhancement was the deployment of LED Corporations 18W T8
LED tube lights
. All fluorescent tube lighting within the facility was replaced with high quality, high efficiency T8 LED tube lighting. Due to LED Corporations extraordinary control measures and high-quality components, applied during the manufacturing phase, maintenance and replacement costs are virtually eliminated.
Handling the complete installation for the project was AG National Electric, a sister company of LED Corporations. AG National provides full electrical services, and has completed several high-profile projects for Palm Beach State College and others, including the Florida Department of Transportation. AG National's specialized experience with LED retrofits has tripled the size of the company within just a few short years.
Anthony Florence, who helms LED Corporations and its installation division AG National Electric located 3300 PGA Boulevard, Suite 550, Palm Beach Gardens 33410, says of the project, "It's very gratifying to participate in a project like this, where every aspect improves appearances, saves money and increases utility." LED Corporations manufactures and distributes high quality LED lighting products with an online catalog of over 700 items.
For more information, please contact: (800) 560-7850
Anthony Florence, anthony@ledcorporations.com
LedCorporations.com