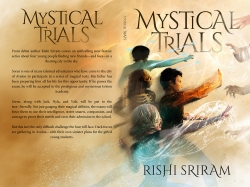 Irving, TX, June 29, 2017 --(
PR.com
)-- From a 12 year old debut author Rishi Sriram comes an enthralling new fantasy series
Mystical Trials.
This book is about four young people finding new friends - and foes - in a floating city in the sky. The lives of Soren, Jack, Nyla, and Vale will change forever when they travel to the city of Avalon to participate in a series of diabolical tests to determine their fitness to attend Isirion Academy. But much more than admission hangs on the outcome of these magical exams.
Sriram has just completed sixth grade from Perry Middle School. He became inspired to create his own fantasy world and mythical characters after reading the Percy Jackson series at the age of seven. He is part of the LEAP program designed for students with a high level of academic discipline.
Paperback and Kindle versions are available in Amazon.
Title: Mystical Trials
ISBN: 1544735782
ASIN: B072JY64V8
Price: $6.99