Rich Creations Launches Energizing Website & New Revitalizing Supplement
Rich Creations, LLC is proud to release an all-natural caffeine-free liquid supplement and cognitive enhancer, Rich Recovery™. Now available to the market to serve as a healthy energetic alternative for people with dietary restrictions, such as diabetics and high blood pressure.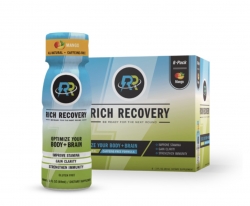 Los Angeles, CA, July 06, 2017 --(
PR.com
)-- Rich Creations, LLC announced today the launch of its informative new website to coincide with the launch of their new, all-natural revitalizing dietary liquid supplement and cognitive enhancer, Rich Recovery™. The highly concentrated supplement takes a scientific approach built from naturally occurring compounds (Alpha-GPC + Citicoline, N-Acetyl L-Tyrosine, R-ALA, Eleuthero Root and Korean Ginseng, Ubiquinone CoQ10, L-Theanine) which together provide a unique formula that can only be found in our proprietary blend.
Rich Recovery™ is available online through its website,
http://getrichrecovery.com
. The informative website embraces the science behind the product and while educating its consumer of the long term benefits. Rich Recovery™ is a healthy alternative to preservative filled caffeinated energy drinks while serving as a friendly option for people with diabetes and high blood pressure. The non-caffeinated, preservative free, low sodium, high magnesium and high potassium formula is geared to enhance cognitive function and boost energy naturally. The company mission is to provide a means of achieving a happy, healthier lifestyle. Rich Recovery's mantra of "being ready for the next round" was conceived while thinking of but not limited to athletes in training, students studying, working professionals or just people looking to experience greater joy in living without the limitations of fatigue.
Rich Recovery's inventor, Richie Petruziello, says, "I believe that everyone's lifestyle has a next round. For too long 'energy' has been synonymous with caffeinated drinks that seem to focus more on jitters and less on health. It has been my vision to create a supplement that revitalizes as well as energizes without compromising one's health. We are ALL entitled to the next round and I believe we have found the path to it."
Contact
Rich Creations, LLC
Richie Petruziello
310-902-2445
www.getrichrecovery.com

Contact