Rust Bullet, LLC Introduces ProPLUS Low VOC Coating
Superior Rust Inhibitive Performance, Low VOCs and Direct to Consumer Pricing.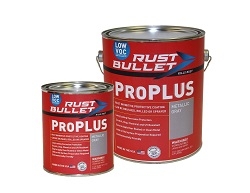 Reno, NV, July 12, 2017 --(
PR.com
)-- Rust Bullet, LLC announces availability of a new, low VOC rust inhibitive coating called ProPLUS.
"Air Quality Management Districts have been asking for cleaner solutions to reduce pollution and damage to the ozone layer. Most conforming solutions are water based and low performing. Rust Bullet has invented a one component, 97 VOC g/l solution, that delivers industry leading performance that is compliant in all 50 states and districts and offers factory direct pricing at only $89.99 a gallon," said Mike Moore, CEO, Rust Bullet, LLC.
Rust Bullet went on to describe some of the key benefits of Rust Bullet ProPLUS:
· Outstanding adhesion
· Excellent resistance to abrasion
· 97 g/l VOC – 50 states and South Coast Air Quality Management District compliant
· Long lasting corrosion protection
· Scratch, chip, chemical and UV resistant
· Little to no surface preparation required
· Factory direct pricing at $89.99 / gallon and $26.99 / quart
· Two United States Patents
· Available directly from Rust Bullet and at Amazon.com
Rust Bullet, LLC is a coatings manufacturer, headquartered in Reno, NV, USA, specializing in protective, rust inhibitive and corrosion control coatings. Rust Bullet, LLC sells to businesses and consumers around the world through its global distribution network of distributors, resellers, and independent contractors. For more information, please contact Rust Bullet, LLC at 1-800-245-1600 or via email at sales@rustbullet.com.
Contact
Rust Bullet, LLC
Mike Moore
1-800-245-1600
www.rustbullet.com

Contact