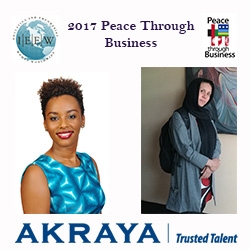 Santa Clara, CA, July 12, 2017 --(
PR.com
)-- Oklahoma City-based non-profit, Institute for Economic Empowerment of Women's (IEEW) PEACE THROUGH BUSINESS® program has brought 30 women entrepreneurs from Afghanistan and Rwanda to the United States for global mentorship for the past 10 years.
Sonu Ratra, Co-Founder of Akraya Inc, serves on National Board of Directors at the Institute for Economic Empowerment of Women's (IEEW).
Akraya will be hosting and mentoring 2 delegates from Afghanistan and Rwanda from July 15th to July 20th. Celine Uwnineza, is the founder of Right Seat, a Human Resources firm in Rwanda and Masoom Ibrahimi, is an award-winning Documentary Filmmaker in Afghanistan. Both women will spend the week meeting with the Akraya team, learning best practices, and strategies they can apply to their business when they return to their countries. Additionally, they will take tours and meet with Executives at Silicon Valley Tech companies.
"The women of Afghanistan and Rwanda have endured struggles of war and oppression throughout their lives," said Dr. Terry Neese, IEEW Founder and CEO, "This program offers the women an opportunity to overcome challenges, embrace their full potential and realize that they are not alone on their journey. American mentors have made the difference over the past 10 years of global impact, helping to educate almost 600 business owners who create thousands of jobs for their countrymen and women."
"We have a tremendous responsibility and the opportunity to support, inspire and influence emerging women entrepreneurs locally, nationally and globally. The Akraya team is committed to supporting women through our signature programs like the 'Women Back to Work' as well as the Peace through Business program. My hope is that I can be an ally and a resource for our mentees and help them navigate through personal and professional challenges of running a business," states Sonu Ratra, Board Member, IEEW and Co-Founder, Akraya.
About Akraya Inc. - Akraya is a multiple award-winning, a global provider of IT, Engineering, Creative and Marketing talent as well as Managed services. Headquartered in the heart of Silicon Valley, Akraya has a presence in 7 countries. Akraya is a certified woman-owned, minority-owned and Bay Area Green Business. This year, Akraya celebrates 15 years of providing Trusted Talent. Please visit www.akraya.com.
About IEEW - Established in 2006, the Institute for Economic Empowerment of Women, based in Oklahoma City, is a 501(c)3 nonprofit organization that encourages the empowerment of women economically, socially, and politically by focusing on their education and mentorship. The IEEW helps provide women with a voice in their fight to establish peace and free market economies. For more information, visit http://www.ieew.org/.
For additional questions please contact:
Erinn Butulis
Marketing Manager
Akraya, Inc.
408.907.3211
Erinn.Butulis@Akraya.com