Wet Suits and Fine Wine Inspire Figtree Products
Figtree Products is expanding its brand with two new outdoor dining accessories for your tasty beverages this summer.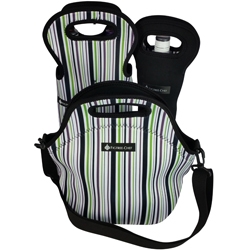 Miami, FL, September 13, 2017 --(
PR.com
)-- Figtree Products Ltd is excited to announce it is expanding its Figtree-Chef Brand to include two new products which have just arrived at Amazon.
Both products are made from neoprene, a versatile fabric that is used for wetsuits that has increasingly lent itself perfectly to a variety of uses that capitalise on its insulating and protective qualities, such as laptop cases, sportswear and bottle coolers.
The new Figtree-Chef Insulating Wine Tote comes in both single and double bottle sizes. It is made from 4mm thick neoprene that will keep chilled bottles cool for up to 4 hours; it also protects against bumps and accidental knocks when carrying it out and about in the car to parties, picnics and beach for example.
Figtree Products CEO and owner said, "They are excellent for taking a bottle of wine or champagne to your host or hostess and they will turn your Chardonnay or Chateau Latour into the gift that will be remembered."
In addition, Figtree Products are bringing to the market a neoprene lunch bag which is made to the same 4mm thick specifications as the wine totes.
Neoprene lunch bags have been a favorite among people who lead a busy, active lifestyle and they continue to be a popular choice for families because of their lightness, unbreakable construction and insulating properties. They hold just the right amount of food for the smart, health-conscious American and are perfect for children's school lunches.
The new products come in two colors, one in the easily recognizable Figtree Products stripes with black interior, and an alternative with the design reversed - black exterior with the stripes on the inside.
The CEO and owner said, "We wanted to create products that were similar in appearance across the Figtree-Chef brand so we manufactured them in the Oxford stripe design found on our Barbecue Tools Set. whilst offering the more conservative option with matching interior that still complements the brand. This will offer customers the chance to buy a matching set of items that will make an impressive statement whether for a small get together or large-scale business function."
To celebrate the arrival of its new products, Figtree Products is going to be offering a discount of 25% for a limited time. Updates about the arrival dates of the new items and how to access the discount code can be found on the Company's website
www.figtreeproducts.com
Contact
Figtree Products
Jean Russell
1-786-292-1469
www.figtreeproducts.com

Contact