Total Success the First Edition of Cabo Food Fest by Casa Dorada Los Cabos, Resort & Spa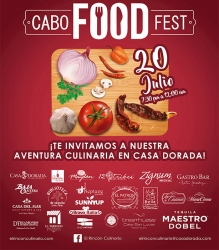 Cabo San Lucas, Mexico, July 21, 2017 --(
PR.com
)-- About 1,000 people attended the gourmet event that took place yesterday at El Rincón Culinario de Casa Dorada, Resort located on the famous beach "El Médano" in the heart of Cabo San Lucas. More than 20 bars and restaurants attended the culinary event, aiming to share the diversity of dishes offered by local Gourmet cuisine.
The event began at seven o'clock in the afternoon, offering the attendants original signature cocktails, delighting them with live music and delicious dishes over a relaxed atmosphere in front of the beach. The stands of the participating chefs, distributed around the hotel's large swimming pool, offered exotic dishes such as carpaccio "Tlayudas" and Sambal fish. Exquisite desserts like fig and cheese ice cream and original drinks such as marzipan cocktails were a resounding success among diners, who had the opportunity to taste fantastic dishes created by the chefs of these famous places.
Referring to the objective of the event, Engineer Leonardo Perli, Resort Director explained, "As a Group, we have joined forces and great talents to make the local and foreign public aware of the culinary offer provided by these chefs and their restaurants. It is the first of several editions and arose from the restlessness of these local talents, of which we feel very proud. In each proposal there is a lot of time, effort, sacrifice, genius, and passion; So that will be something to remember and repeat! "
The event was attended by renowned hotels and restaurants such as Casa del Mar, Baja Cantina, Maria Corona Restaurant, Paradisus Los Cabos, Cabo San Lucas Breathless, Bella California, Artichoke Heart, Diamonds International, Bravo Italia, Baja Wines, Gastro bar , Tequila Library, Villa Group, Neptune, The Pattern, The Mansion, Comnor and Sunny Up, among others.
Contact
Casa Dorada Los Cabos Resort & Spa
Blanca Bastida
011 52 624 163 5705
www.casadorada.com

Contact