A Chef, a Marketer and a Culture Creator Bring a 7 Course Pop-Up Dinner Series to Fort Lauderdale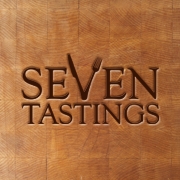 Fort Lauderdale, FL, July 21, 2017 --(
PR.com
)-- Beginning in August chef Troy Sheller, Andrew Martineau and Evan Snow will launch Seven Tastings, a culinary journey that will transport foodies on the ultimate seven course fine dining experience by seven chefs all in an atmosphere where ​foodies can be foodies & chefs can be chefs.
Each event will feature seven of South Florida's top chefs each creating a course that they haven't made in any of their restaurants with many ingredients supplied by local farms; Marando Farms, Farms to Chefs and Harpke Family Farms. For the inaugural event, participating chefs include Carlos Maupin (Carlos Maupin), Troy Sheller (En-Flux), Diego NG and Alex Kuk (Temple Street Eatery), Roy Villacrusis (Roy Villacrusis), Blake Malatesta (MIA), Seth Evan (Restoration Hardware), George Patti (Meat Eatery and Tap Room) and Paul Joachim (Chocolate Genius).
"I feel blessed to bring a truly dynamic and inspiring collaborative culinary effort to FTL. Our team of world-class chefs, from Food Network winners to James Beard award nominees, will bring our guests to new culinary heights in an international fusion menu using local farms and purveyors, a true 'Farm to Fork' dinner. This 7 course dinner will be an experience only found in our guests fantasies," says Chef Troy Sheller, owner En-Flux.
This monthly culinary trip will move to various nondescript locations around South Florida and the food will be served family-style to encourage social interaction between the foodies in attendance. To add another layer of interest, attendees aren't just made up of people that want to attend but rather chosen through an application process where they are required to write something about themselves and share their Instagram profiles.
"I'm a lover of food and unique experiences," says Andrew Martineau, Chief Creative Altruist and CEO of UniteUs Group, "and by creating a platform where chefs can be chefs and foodies can be foodies right here in Fort Lauderdale we can continue to fuel the growth and exposure of the local culinary community."
Seven Tastings will premier on Thursday, August 10, 2017 at a secret location, and will serve a 7-course tasting menu that will feature seasonal fare from local farmers and purveyors that will dazzle your palate and stimulate your mind with a choice of optional beverage pairings to compliment. There will be two price points for attendees to choose from - $75 (beverages at the bar) and $125 (beverage pairings included). The Limited Seating event begins at 6pm with a Welcome bite and chefs will present each course every 20 mins with special cocktail presentations and a special guest musical performance that will compliment the night.
"We're really excited to bring some of the best chefs in the community together to showcase our culinary Community and reward our local foodies with an experience they won't soon forget," says Evan Snow, Co-Founder, Choose954.
To get invited for one or any of the dinners, please visit the website at http://www.seventastings.com
For additional information, menu announcements and secret location follow Seven Tastings Facebook and Instagram pages.
About Seven Tastings
Seven Tastings is a fine dining experience brought to you by a chef, a marketer and a culture curator where guests are presented with the ultimate seven course fine dining experience prepared by seven chefs all in an atmosphere where ​foodies can be foodies & chefs can be chefs.
Contact
UniteUs Group
Andrew Martineau
954-850-8581
uniteusgroup.com

Contact