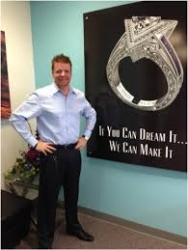 Albuquerque, NM, July 22, 2017 --(
PR.com
)-- In an industry where technological innovations take the backseat to centuries of tradition, John Thomas Mead, owner of John Thomas Jewelers in Albuquerque, New Mexico is an exception to the rule. He began his career as a first generation jewelry back in the early 1990's in Buffalo, New York, and has never looked back. In 1995, he moved to Las Vegas, Nevada and opened his first retail jewelry store, and then relocated his growing business to beautiful Albuquerque, New Mexico in 2003, to the current location on the 3rd floor of the Lewis University Building.
As technological advances made their way into the jewelry industry, John Thomas started to incorporate the use of industry-related technology to deliver the very best products and prices to his customers. Today, most of his custom jewelry is built using the latest CAD/CAM technology, which allows clients to see beautiful renderings of their designs, and eliminates the apprehension that sometimes comes with the custom design process.
As the newest member of Preferred Jewelers International™, John Thomas Jewelers has been selected to join an elite international network of independent retail jewelers who are dedicated to providing excellence in service, support and value. John Thomas Jewelers now offers the Preferred Lifetime Nationwide Warranty, which is included, when applicable, in customer's purchases at no additional charge.
The Preferred Warranty fully guarantees workmanship and materials on customer purchases. If service is required, the customer would simply go to a Preferred Jeweler and it will be repaired and serviced at no charge. The Lifetime Nationwide Warranty program also includes the replacement of any missing diamonds up to 0.20 ctw.
Customers of John Thomas Jewelers will now enjoy the benefit of nationwide protection, assurance and trust on all their fine jewelry purchases through the addition of the Preferred Lifetime Nationwide Warranty.
For more information about John Thomas Jewelers, or the Preferred Lifetime Nationwide Warranty, contact John Thomas Jewelers at (505) 342-9200 or visit John Thomas Jewelers online at: www.JohnThomasJewelers.com.