Porter Ranch Teen Represents California in the Miss Teen International Pageant
Sixteen year old Carly Peeters, a rising senior at Granada Hills Charter High School, is Miss Teen California International and will be competing for the Miss Teen International Title at the week-long pageant in West Virginia from July 31 to August 5, 2017. Miss Peeters is running on a literacy platform because she believes this is a problem that if addressed can help reduce crime, improve the economy and improve healthcare.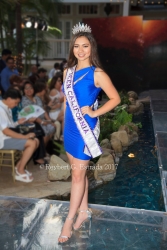 San Fernando Valley, CA, July 25, 2017 --(
PR.com
)-- Sixteen year old Carly Peeters was crowned Miss Teen California International at the end of April. In less than a week from now, she is travelling to West Virginia to compete for the title of Miss Teen International which will be going on from July 31 to August 5, 2017. During the week-long competition teens from other states as well as other countries will be interviewed by judges, and take part in fitness wear, fun fashion and evening gown competitions.
The Miss Teen International Pageant system emphasizes a commitment to professionalism and community service. As Miss Teen California International, Peeters will run on her platform of "Literally Literacy" for which she started a blog series with the same name. She is working with Jumpstart to promote literacy and instill in them a lifelong love of learning. To help the global community, Peeters has also started a fundraiser to help Buildon, a nonprofit organization that builds schools in developing countries. You can learn more about these organizations at literallyliteracy.com.
When asked why she chose literacy as a platform, Peeters says "Imagine not being able to read or write your own name. 775 million people worldwide dare functionally illiterate preventing them from acquiring jobs, access to healthcare, or creating a better future for their families. One book, one child can change the world."
Carly Peeters is a rising senior at Granada Hills Charter High School where she is the captain of the equestrian team and a member of the award-winning G-Notes show choir. She is also an actress and co-starred in A Cowgirl Story with Bailee Madison and Chloe Lukasiak, released on July 17, 2017 on Netflix.
Contact
Valley PR Firm
Cathy Mayali
808-227-1809

Contact