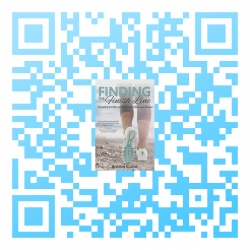 Geneva, IL, July 27, 2017 --(
PR.com
)-- CrossLink Publishing is pleased to announce the August release in paperback and eBook formats for the Amazon Kindle, the Barnes & Noble Nook, and the Apple iBookstore of "Finding the Finish Line: Navigating the Race of Life through Faith and Fitness" by Andrea Cladis of Geneva, Ill.
As Atlanta resident Glen Gomez, BSN, MS, RN, and Manager of Data and Analytics notes, "In 'Finding the Finish Line,' Andrea takes you on a captivating journey fueled by grit and her crescendoing relationship with God. Endurance is a recurring theme, where we see its manifestation in physical, spiritual, and cognitive forms. We learn the importance of strategy, resilience, and mindfulness in achieving great success. Most importantly, we discover that when we center our focus on God and not ourselves, great things begin to unfold. Through Andrea's compassion, grace, wisdom, humility, and patience, she allows us to use her as a conduit for finding our personal finish line, where faith is perhaps the most determinant factor in our ability to find and cross it. Through faith and endurance, we can more closely follow God's example as Andrea continues to elegantly do."
From career decisions, relationship failures, and the drive for discernment, "Finding the Finish Line" provides you with powerful anecdotal analogies for living passionately dedicated to Christ. Coupling tangible experience with tenacity in faith, Finding the Finish Line intuitively illustrates how you can live authentically by your faith and values while striving to become the best version of you possible. Your life is a race worth running with resilient purpose and finishing with renewed vigor. This engaging book will help you do both!
"Finding the Finish Line" (ISBN: 978-1-63357-100-6, Trade Paper, 90 pages, $10.95, Christian, Inspirational), from CrossLink Publishing, is available on Amazon, Barnes & Noble, and wherever fine books are sold.
About the Author:
Andrea is a Chicago native whose writing has been described as "emotive, yet brazen, seasoned with thinly veiled cynicism, and a pinch of sarcasm." She is a high school English teacher, poet, and Fitness Professional. She owns and operates Tanager Writing, a Christian-based business as a freelance writing consultant. She creates content copy for websites, writes resumes, and helps businesses build effective brands. Her creative work has been published in The Greek Star, academic periodicals, and literary journals. For more about Andrea Cladis and her work, please visit: http://andreacladis.com.
About the Publisher:
CrossLink Publishing is a traditional Christian publishing company based in Castle Rock, CO. CrossLink publishes a variety of bible study, meditation, and spiritual growth books distributed by AtlasBooks. For more information, visit CrossLinkPublishing.com.
Rick Bates, Managing Editor
CrossLink Publishing
888-697-4851
publisher@crosslinkpublishing.com